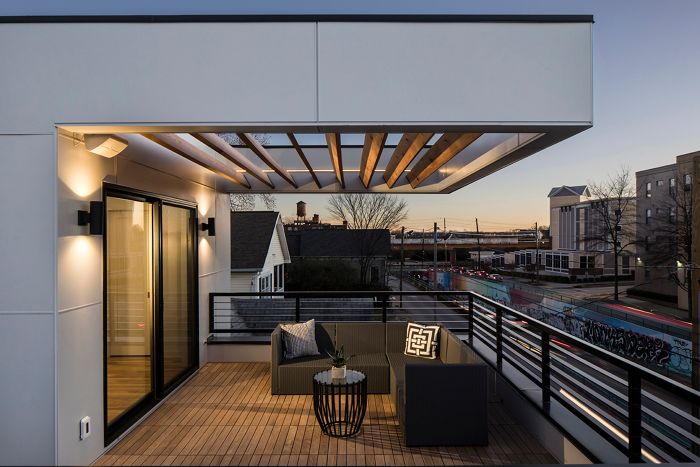 Boulevard was a very challenging yet extremely rewarding project for us.  The site size, shape, and its location were restrictive, despite the circumstances we decided to move forward, we designed and built a  modern single-family home, transforming a rather neglected empty corner lot into a Single-family home nestled in the Old Fourth Ward neighborhood of Atlanta GA.  The main issue encountered was the size and shape of the lot with a total land area of 3,797 SQ FT, Zoned R-5 and a Wedge Shaped Lot-providing us with a buildable area of 635.26 SQ FT in the shape of a triangle. The second issue, high traffic on the main street;  offering noise, difficult access to the site and lack of views. These Challenges were embraced and became the main inspiration for our design.
In order to address the shape and size restrictions of the lot, we underwent a variance process with the City of Atlanta, to change the Building Setbacks. Then an L-Shape floor plan was proposed to maximize the footprint of the house which formed a very private courtyard-on the north side of the lot. The main level is an open plan connecting the dining, kitchen and living room, with views and access to the courtyard. As a result, this single-family home had plenty of space to entertain, a cozy courtyard and space for two cars.
To alleviate the noise and views coming from Boulevard-the high traffic street, Brick was used along with insulation to soundproof space. Just a few windows were placed on the west façade while the majority of the windows were placed on the north side facing the courtyard, allowing for nicer views and ample lighting.
And lastly, to maximize area, a third floor was added, consisting of a family room with a wet bar connected to the Rooftop Terrace to take advantage of Atlanta Skyline Views.