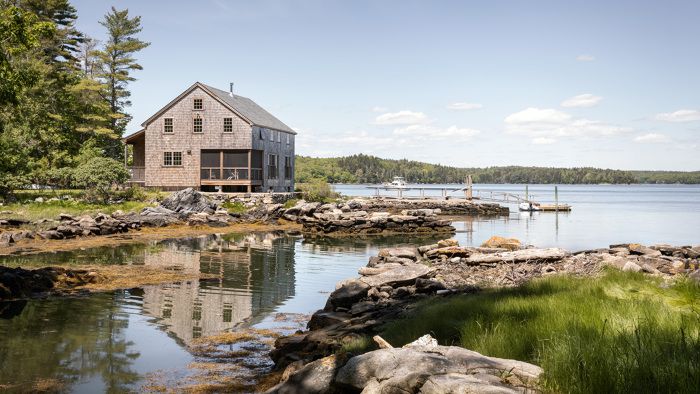 The Sortwell Chandlery had been in the client's family since the early 1900s and was used as an open plan, informal coastal cottage. The summer tides rose and fell below the plank floor, and a ladder provided access to the upper-level bunkroom. Rising sea levels put the Chandlery at risk. The clients wanted to maintain the character of the original Chandlery while rebuilding the structure to meet the new flood plain requirements. They also requested a new kitchen and bathrooms, heating, insulation, a new stair, screen porch, upgraded electrical system – and an extended season from early Spring into late Fall.
We worked closely with the local historical society, planning board, and The Department of Environmental Protection to lift, reposition, and design a compatible addition to the Chandlery. The Chandlery was raised three feet and moved back from the River's edge. The shed roof-style addition springs from the eave of the old structure, adding an entry porch, small mudroom, new stairs, a full bath, laundry, and mechanical space. We carved a screen porch from the southeast corner to let in sunlight and to access down-river views. New windows and french doors open to the River, and a new light-well brightens the living, dining, and kitchen space. The master suite, study, and private entry look upriver, proximate to the existing dock and pier. Original structural timbers were retained and supplemented with a new structural grid of rough sawn posts and beams.
The new concrete footings were designed to accommodate coastal flooding and resist uplift. The original floors were re-installed and insulated, and 19th-century boards were resourced for stairs and interior trim. Old trade counters, bases, and cash till of the Chandlery have been incorporated into the new kitchen.