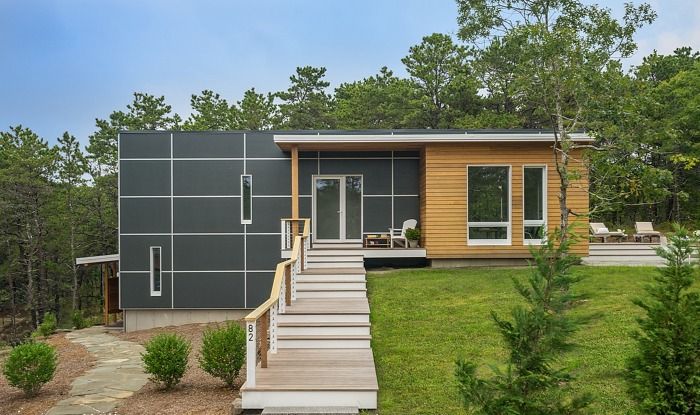 FAMILY ROOTS. A West Coast couple sought a permanent East Coast vacation home near family members living on Cape Cod. As academic professionals focused on sustainability, they sought a green, energy efficient home that was well-aligned with their values. With no green homes available for sale on Cape Cod, they decided to purchase land near their family and build their own.
SLOPED SITE. The existing sloped terrain called for a design that took advantage of the natural landscape. Of equal priority was optimizing solar exposure, preserving privacy from abutters, and creating outdoor living space. The design accomplished these goals with a simple, rectilinear form that worked with the sloping site.
SMART SPACE. On the entry level, the "L"-shaped living, dining, and kitchen space connects to the exterior living, dining, and grilling spaces to effectively double the home's summertime entertainment area. The master suite with a built-in study retains privacy but still claims expansive downhill views. The lower level has two guest bedrooms, a second full bathroom, and laundry. One guest bedroom doubles as home office by opening the barn-style double doors. Thoughtful design, generous ceiling heights and large windows transform the modest footprint into a well-lit, spacious home.
RENTAL INCOME. The property works for its owners by catering to vacationers bound for the nearby beach. Durable finishes inside and out ensure longevity with the heavier use that comes with a rental property.
Overall, the home embodies the owners' values & goals, enabling thermal comfort, energy efficiency, a vacation respite, and supplementary income.
This efficient home celebrates outer Cape Cod's history of modern architecture. Photo by Eric Roth.
The deck is a step down from the interior living space, and a few steps above grade allowing for the deck, adjoining patio and landscape to have a desirable connection, uninterrupted by a handrail or guardrail. Photo by Eric Roth.
The comfortable living room captures nature and light though the south facing triple pane windows, while also offering a sealed fireplace for ambiance. Photo by Eric Roth.
The dining area encourages more natural light and flows directly to the outdoor living space. Photo by Eric Roth.
The kitchen looks directly at the surrounding natural views, and adheres to a modest budget in part by using custom painted off-the-shelf cabinetry.