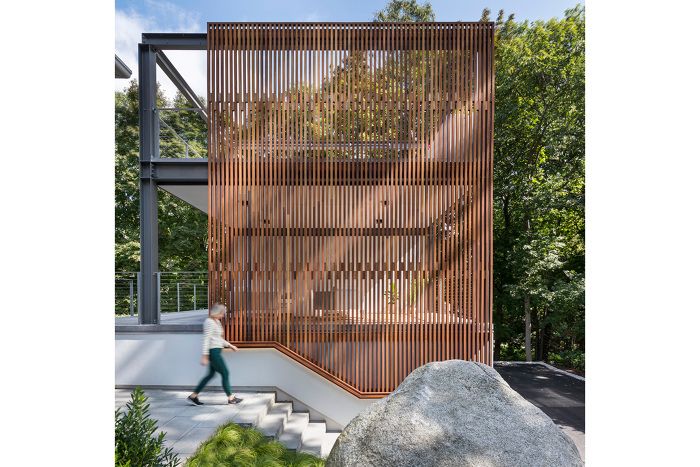 The Lantern Studio is set behind and to the right of the Client's Dutch Colonial Revival residence, the original house remaining unchanged. The lot is along a busy residential street lined with an eclectic mix of Tudor and Colonial Revival houses. While still being visible from the street, the setback respects the context of traditional houses, and established pattern of accessory garages being located behind the primary dwelling.
The building is placed directly behind a spectacular glacial erratic boulder. The boulder becomes the focal point of the backyard entrance while the monolithic stone stairs wind directly behind it. Low grasses are planted around the boulder, in keeping with the manicured gardens typical of the neighborhood. The landscape to the rear of the lot is left raw and wild, with rock outcroppings that nature can overtake in time. This free-standing garden building is conceived as a creative sanctuary from the busy day-to-day life of the home. Working from the idea that our best and most creative work is done in a calm space with minimal distractions, each level of the building is a retreat for the Client's creative passions of antique Vespa scooter restoration, writing, antique fountain pen repair, and vegetable gardening.
The lowest level, bermed into the sloping site contains the 673 SF garage workshop to repair antique Vespa scooters. Additional covered parking is provided under an adjacent carport with exposed steel beams topped with metal corrugated roofing. On the middle floor, set a few steps above the backyard, is the only fully conditioned space, the 252 SF writer's retreat, also serves for repairing fountain pens. The balance of the middle floor is an open-air veranda, which gets its privacy from the street by a 3-story mahogany screen. The top level is a 590 SF roof deck, providing a haven for vegetable gardening, away from deer and squirrels that plague ground-level. An outdoor dining table and chairs surrounded by planters inspires farm-to-table entertaining. A concrete box clad in stucco encloses the lower garage workshop and forms the plinth for the exposed steel frame structure of the upper two floors of the building. The six perimeter steel columns provide a column-free interior for the middle floor and extend an additional 8 feet above the roof deck to define the edges of the building. A floor assembly of Ipe deck tiles over pedestals bring the traditional warmth of wood to both the open-air veranda and roof deck spaces.