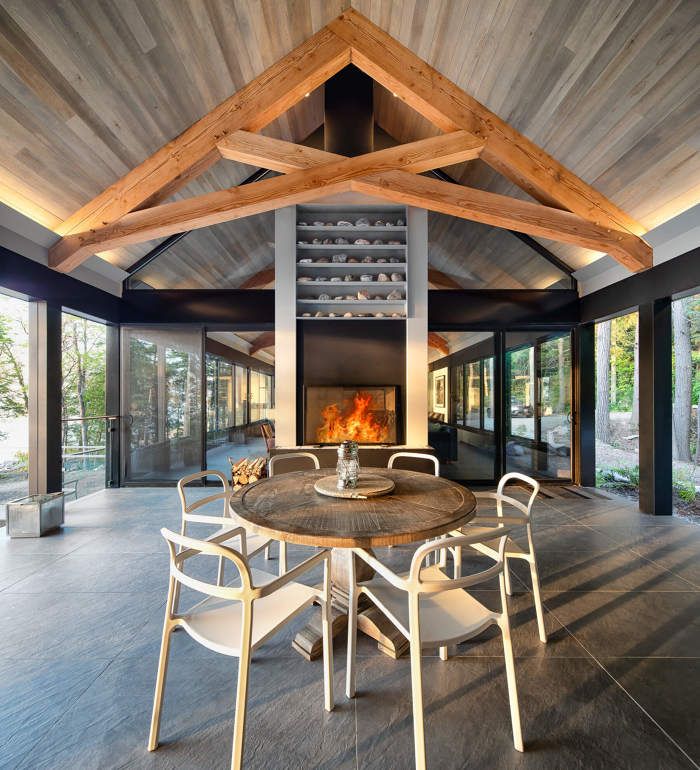 A low maintenance four season weekend residence on Georgian Bay that exploits the best aspects of its site and views and integrates indoor and outdoor living year round. The project is named after the efficient 22 foot clear structural span that generated the narrow form of the house.
The long thin house form was generated by zoning and setback regulations. The two level house is used to mitigate the rocky slope conditions. Excavation material and the septic beds were used to provide gentle access to level areas on both sides of the house.
Deep overhangs protect from summer sun and rain but allow low winter sun and passive solar heating. The narrow house form allows cross ventilation in all areas and protects adjacent outdoor areas on windy days.
The upper main level enjoys expansive views of the lake and islands. An open outdoor room connects to the lakeside deck and forest garden and allows separation between the guest area "cabin" and the main room and owner's suite. These areas are connected together through the lower level and stairs at each end.
The building exterior was designed to be maintenance free. A matte gray metal roof with concealed fasteners and deep overhangs, ventilated soffits and recessed fixtures, concealed vents and penetrations where possible. The matte gray corrugated metal siding system was designed to use industrial components in a refined way. Fasteners are concealed by vertical battens and window frames and sills. The end result is a modern take on the log houses and cabins found in the area.