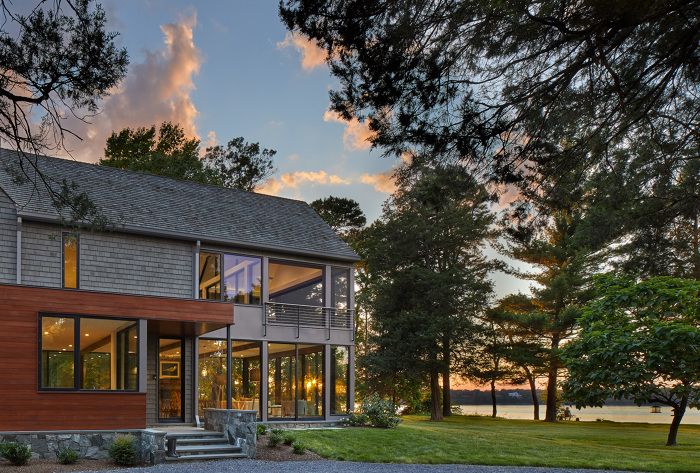 This project is a new home in southern Maryland on the Potomac River located directly across the Potomac River from Mt. Vernon and surrounded by undisturbed Federal parkland. The challenge of the project was to design a home that took advantage of the unique waterfront site, while respecting the historic view shed. Our client wanted to enjoy the river view, while Mt. Vernon preferred to have the home merge with the natural landscape. The L-shaped plan steps back from the river behind mature trees, while shaping an outdoor space that engages the sweep of the river. A view of Mt. Vernon is enjoyed on the approach to the home and most interior spaces. The design limits the amount of glazing facing the river to that of the original one-story and shields the upper glazing with a screened porch that diminishes the visibility of second floor.
Cedar shingles merge with the trees and native stone anchors the home to its unique site. The design sought to provide the ample program with a minimal footprint and maximum preservation of the natural setting. Environmental harmony and a palette of materials reflective of the natural context were central to the design approach. Maintenance and enhancement of the shoreline buffer exceeded required Critical Area regulations. The design was applauded by the historic preservation commission, in consultation with Mt. Vernon. The National Park Service approved the planting of native trees, with the goal of maintaining the woodland character of the property. The goal was to create an energy efficient and compact design solution that preserved the natural setting as a steward of the unique property.
View of upon approach from driveway.
Open concept living room, dining area, and kitchen with fireplace that has 270 degree views of the river.
Master bedroom with private screened in sleeping porch and vaulted ceilings.
Open kitchen with custom cabinetry.
North elevation of home facing the water.