Sponsored Post
Building Comfort Into a Home
Choosing the right insulation is key to a high performing, comfortable home.
Sponsored by CertainTeed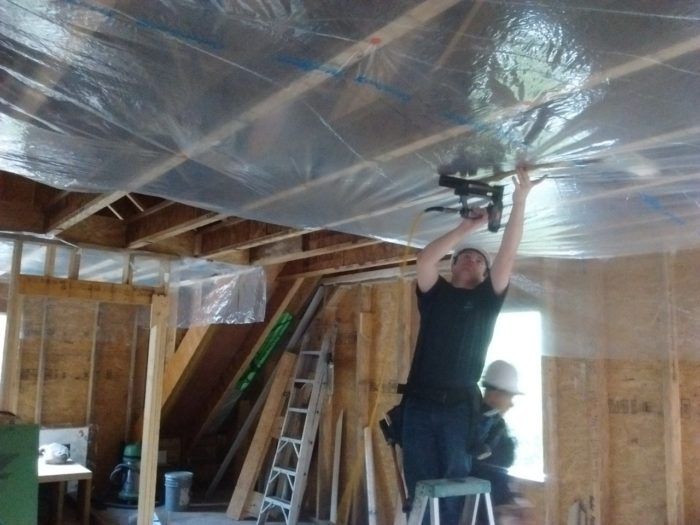 One of the most important factors to consider when building or designing a home is occupant comfort. The right insulation system will successfully control thermal performance, air tightness, moisture management and acoustics — what CertainTeed describes as "Complete Comfort."
Achieving acoustical comfort
Among the strategies employed in the FHB House to ensure a higher level of comfort is the use of CertainTeed insulation products and systems. In the interior walls, NoiseReducer fiber glass batts provide superior noise control and acoustical comfort. The sound transmission loss (STC value) of a lightweight wall can be increased by as much as 10 points by adding acoustical insulation to the stud cavity of the wall, significantly reducing the effect of noise and making common disturbances such as loud speech, and plumbing in another room a thing of the past.
Energy efficiency and thermal comfort
In the attic, InsulSafe SP premium loose fill insulation creates thermal efficiency, while MemBrain Continuous Air Barrier & Smart Vapor Retarder not only intelligently manages moisture in the attic, but also is the keystone that completes the continuous airtight seal of the building envelope. A large portion of a home's energy — up to 25% — is lost through the ceiling and into the attic. This is because heat naturally rises and will follow the path of least resistance, escaping through leaks in the roof and walls. Targeting these areas is one of the best ways to increase energy efficiency.
Controlling moisture in today's airtight homes
Creating an airtight home presents an additional challenge: how to manage moisture in the wall cavity. It's a simple fact: moisture in a home is unavoidable, and it comes from both the inside and the outside. Among the sources of moisture are leaks from windows, doors and walls. Further contributing to the issue are exterior cladding systems that retain moisture (e.g., fiber cement and stucco) and exterior insulation systems that don't allow for outward drying. So how do you protect the wall cavity from moisture intrusion? CertainTeed has the answer: SMARTBATT Insulation with MoistureSense Technology.
A smart solution to manage moisture
A moisture-managing fiber glass batt, SMARTBATT is the only insulation that adapts its permeability based on the moisture level in the wall cavity. It blocks indoor moisture from entering when humidity in the cavity is low, and breathes when it senses high humidity that needs to be released to the interior conditioned space. Not only does it prevent moisture from condensing inside a wall, it also lets walls dry out should moisture get in.
Unlike traditional poly vapor retarders that can trap moisture in the wall cavity during the summer, SMARTBATT diffuses vapor in both directions to keep walls dry year-round.
A continuous air barrier for optimal air sealing
Paired with tape along all the joints and seams, SMARTBATT can deliver levels of airtightness that exceed today's building code standards and come close to meeting some of the industry's most stringent requirements like the Passive House standard. It is also the only product of its kind with a Class A fire rating.
From outstanding air sealing and moisture management to acoustic comfort and peace of mind, SMARTBATT ensures a better performing, healthier, safer and more comfortable home.