Sponsored Post
Tools & Materials
Cabinetry Constructed for the Long Term
An FHB House is only as good as the quality of its materials and method of construction; the same applies directly to the cabinetry.
Sponsored by Crown Point Cabinetry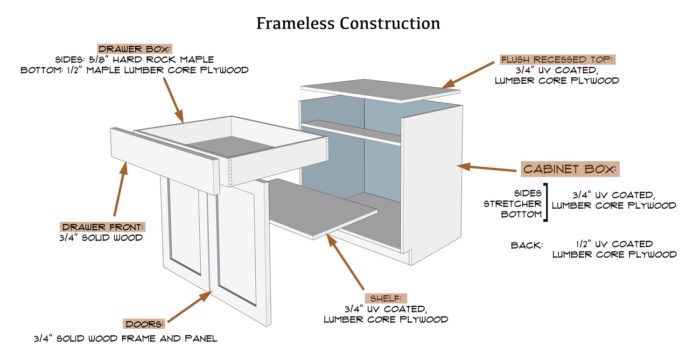 With the basic layout mapped out, our designer put together a look with a timeless appeal. Douglas Fir was chosen for the wood specie, with its subtle grain, and would be protected in our Natural (clear) finish to maintain the beautiful and warm tones of the wood. Linear handles in a polished nickel finish would add just the right accent for the hardware. Lastly, in a nod to blending traditional with the modern, it was decided that frameless construction would be the perfect complement.
Our standard construction for frameless cabinetry is illustrated above. Like all our cabinetry, we build with all-wood construction. Up front, the doors and drawer front are solid wood, 3/4″, and the drawer box is 5/8″ hard rock maple, dovetailed at all corners, and has a 1/2″ maple lumber core plywood bottom. The components of the carcass are 3/4" UV-coated, lumber core plywood, except for the back, which is 1/2" UV-coated, lumber core plywood.
Being a full custom cabinet shop, we offer an incredible range of styles and options, including our patented Squared Channel (U.S. Design Patent #US D621, 643 S) and Straight Channel (U.S. Design Patent #US D621, 643 S) face frame construction.
Crown Point Cabinetry is unique in that we are the only custom cabinetmaker that sells direct, nationwide. We have twenty in-house designers that work directly with builders, architects and homeowners, nationally and internationally.