Sponsored Post
Insulated Concrete Forms: The Perfect Choice For Energy-Efficient Construction
Consider ICFs if you want to build a comfortable custom home with lasting value.
Sponsored by Amvic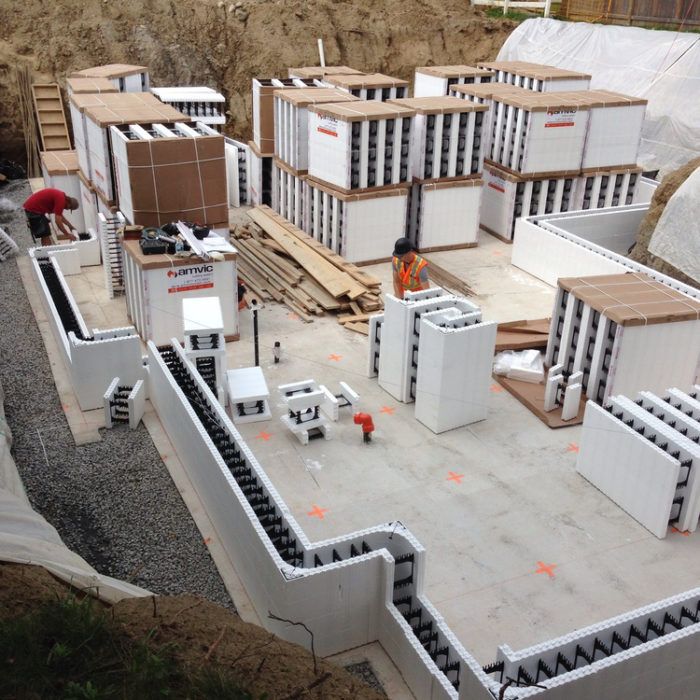 With the countless types of building materials available in today's market, determining the best way to build and insulate a home takes some careful consideration. Amvic Building System has made this choice a whole lot easier with the introduction of their Amvic Plus 3.30 ICF blocks. Whether you're a home builder, general contractor, or a homeowner planning on building an energy efficient new home, Amvic's newest insulated concrete forms provide an easy way to construct a durable custom home that is comfortable to live in, economical to build, and extremely energy efficient.
What are ICFs?
The Amvic Plus 3.30 insulated concrete forms (ICFs) are hollow interlocking expanded-polystyrene blocks which, when stacked together, accomplish a number of tasks in one simple system. Their first job is to create the form for a monolithic poured concrete wall that becomes the structure of the house. Their second job is really a few jobs wrapped into one; the forms stay in place after the concrete wall is cured and act as the thermal insulation, air barrier, and moisture barrier, keeping the entire interior of a home comfortable and dry. Finally, the ICFs have polypropylene webs embedded below the surface of the foam every eight inches, providing plenty of places to fasten the finish materials of your choice to the interior and exterior of the walls.
Benefits of building with ICFs
With the system's easy-to-stack reversible blocks, there are several clear reasons to use Amvic Plus 3.30 ICFs to build the walls of a house, all the way from the foundation to the roof.
Easy and economical
A unique reversible interlocking pattern on the top and bottom of each block means that the blocks can be laid in either direction, regardless of the orientation of the course below, allowing the builder to minimize waste. In fact, it's common for there to be as little as 1% waste when cutting Amvic Plus 3.30 ICFs to fit—a more than twice as efficient use of material than most competitors' products.
Conventional concrete foundation forms are heavy and rigid, which adds up to many man-hours and lots of hassles when forming basement walls. Amvic ICFs on the other hand are small and lightweight, and one person can quickly and easily stack them to create walls of any size or shape.
The time saved in setting up forms for the basement walls is only half the story. While the contractor must get to work stripping the heavy forms after a conventional concrete wall is cured, the ICF builder is already a few money-saving steps ahead, having left the forms in place to act as the insulation and mounting surface for drywall or other finish materials. And the savings doesn't have to stop at the basement; an ICF wall can be built right up to the edge of the roof of any house, in place of typical wood framing and cavity insulation, giving the same economical benefits to the upper levels of the home as well.
Design and construction flexibility
Complicated custom walls are a breeze to build with Amvic ICFs, because blocks can be stacked in any direction and cut to fit with basic hand tools. And with the available 90-degree, 45-degree, tapper-top and brickledge blocks, intricately shaped spaces are just as easy to build as simple rectangular rooms. Amvic will also produce custom radius blocks to accommodate any unique architectural design.
Unmatched strength
The concrete core poured into an ICF form becomes a structurally reinforced monolithic concrete structure once it's cured. This strong, continuous wall system makes a house built with Amvic ICFs a safer place to be during serious storms and natural disasters. Plus, with a solid core and no air cavities, the walls have a fire rating of 3 plus hours.
Concrete isn't the only strong material in this system either; Amvic Plus 3.30 ICFs are made of high-density expanded polystyrene (EPS). The two sides of each EPS block are held together with several robust webs made from 100% recycled polypropylene. Each web has strategically placed notches to securely receive reinforcing steel rods, providing superior strength without the need for time-consuming wire tying of the rods typical in a conventional concrete wall. Put all of these features together and you have a concrete form that is extremely resistant to pressure, which accounts for the ability to build tall walls in a single pour, reducing job-site downtime and concrete-pumping costs.
Improved energy efficiency, comfort, and health
The Amvic Plus 3.30 system is a major upgrade from previous models of ICFs. With 3.25-in. Of EPS foam on both sides of each block, Amvic Plus 3.30 ICFs have a thermal resistance of R-30—making them more energy efficient than any other manufactured insulated concrete form blocks in the industry. When paired with the thermal mass of the poured concrete core and the air and moisture blocking qualities of the continuous layer of EPS foam, the insulation values help Amvic ICF homes to easily maintain comfortable temperatures year round, and they do it at 30% to 50% less cost than comparable stick-built houses.
In traditional wood-framed houses, the organic materials in the wall cavity can lead to conditions where the cold exterior air meets the warm interior air, creating the potential for mold and mildew. With Amvic ICFs, there are no cavities to collect moisture or harbor mold or mildew growth, and the ICF wall will not deteriorate or lose R value over time and provides no food value to attract insects. Plus, being a seamless airtight wall system means that ICF walls help to prevent allergens such as dust and pollen from entering the home.
Take the next step
Whether you're ready to build your next custom home and need to find an Amvic dealer, or you just want to know more about the benefits of building with ICFs, you can visit  www.amvicsystem.com or call 1 (877) 470-9991 to speak directly with an Amvic representative.