Sponsored Post
Biophilic Design
Natural touches infuse spaces with lived-in luxury.
Sponsored by Eldorado Stone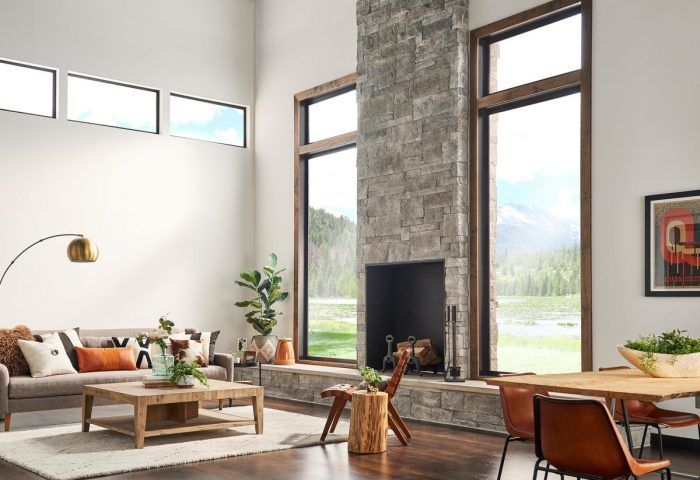 Designing, building, or renovating a home is a dynamic process, and it's a deeply personal experience for both homeowners and the professionals who step in to bring their customers' dreams to life. That high-stakes intensity and sense of having skin in the game also extends to the armies of artisans and craftsmen who develop and distribute products for use in and outside of the home. We're all dreamers, after all, with a collective aspiration to achieve that "just right" feeling when everything is said and done.
Thankfully, the natural world is brimming with inspiration, and we return to it time and again to discover new colors and textures for our most treasured spaces. In fact, there is mounting evidence that biophilic design, which embraces our innate tendency to seek connections with nature, is a framework that provides solutions which are capable of reducing stress and lowering heart rates and blood pressure while increasing creativity, productivity, and overall wellbeing.

What is Biophilic Design?
Design features that showcase natural elements provide a primal, multisensory approach to reinforcing our connection to nature. From fire features and light wells, to stone statement walls and elaborate water features, these additions create memorable spaces and evoke a sense of tranquility in the places where we spend most of our time.
Intentionally incorporating biophilic design into our interior and outdoor spaces can also significantly enhance the aesthetic benefits of our homes. The rugged, worn textures and expressive patinas of natural materials imbue spaces with a sense of lived-in luxury that artfully blends some of the fundamental markers of both traditional and modern design archetypes. Ultimately, this helps homeowners achieve a look and feel that is both cozy and couture at the same time.

Incorporating Biophilic Design
Here are three fundamental strategies for incorporating the appealing touches of the natural world into your lived-in, everyday experiences:
Bring the Outdoors In – First, embrace the use of natural elements indoors, rather than keeping the natural world outside and anesthetizing your home's interior spaces. Luxury spas often incorporate stone and wood on their walls because they understand the calming effect of natural textures. This same philosophy can be translated into homes with a variety of sustainably manufactured surfaces, from wood and stone veneer products, to wallpaper with botanical prints and even nature-inspired murals.
Lighten Up – Natural light is key in any space, and research suggests that incorporating more sunlight can help with everything from reducing overall stress levels to encouraging healthier sleep patterns. Use windows and light wells to let in natural light, then use a series of brightly colored walls and surfaces to strategically extend the reach of that natural light throughout the home.Mix creams, ivories and tawny eggshell hues with intricate layers of gray, green and brown to liven up the visual experience of your favorite gathering spaces, as well as your most protected sanctuaries such as bedrooms and bathrooms.
Embrace Earthy Accents – Incorporating natural colors and textures can provide both direct and indirect connections with nature. Plants offer both a pop of color and a breath of fresh air, often helping to filter the air and provide a greater feeling of calm simply by their natural aromas. For the truly committed, entire living walls can be stunning in both appearance and effect.A stone veneer accent wall is another way to incorporate unique, nature-inspired hues and textures—evocative of the natural world, stone veneer products are lightweight and easy to install. Best of all, they provide an alluring tactile dimension to any space, with rustic textures you can see and feel. Colors can be customized to fit a particular aesthetic, giving designers and other specifiers greater control from a creative standpoint and allowing for color and texture matching between historic or legacy stone and new applications many years later.
Our homes serve as the anchor points of our experiences, from scribbles and stuffed animals to lively dinner parties, growing families and pets. Within them, we seek daily opportunities for connection, both to the physical world around us and to one another. As biophilic design solutions continue to grow, both in terms of volume and level of sophistication, the possibilities are endless when it comes to designing the unique spaces where we live, work and entertain.