Sponsored Post
Choosing the Right Construction Adhesives and Sealants
Learn how Titebond's line of adhesives, sealants, and glues were used on Fine Homebuilding House Connecticut.
Sponsored by Titebond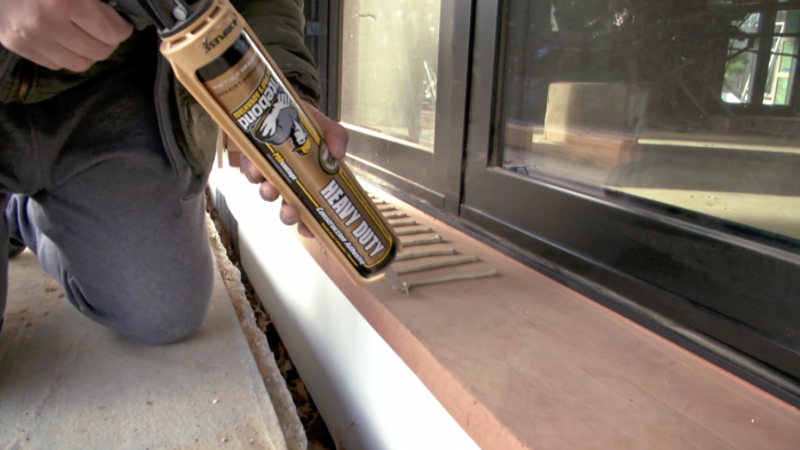 When it comes to adhesives and sealants on the jobsite, you can't take a "one size fits all" mentality. You have to match the product to the task at hand, and ask yourself questions like, Will it bond to the material? Is it UV resistant? Is it flexible? And so forth. Let's take a look at some of the Titebond products we used on the Connecticut Fine Homebuilding House.
Titebond Heavy-Duty Construction Adhesive is like the workhorse of the job site. It's great for new installation work and repair work. As long as the surfaces are clean, it'll bond to most common building materials. On this project, we used it underneath the door thresholds for a secure bond that'll remain flexible over time. This low-VOC adhesive has a strong initial bond and is waterproof and weather resistant.
If you don't want to have to rely on fasteners or a lot of temporary bracing for some tasks, you should use something like Titebond's Fast Set Construction Adhesive. On our project, this adhesive was used to adhere the full-height magnetic wall panels to the interior surface of the walk-in pantry. The adhesive is super smooth to apply and sticks to most common building materials, even including nonporous surfaces. And it's good for both interior and exterior applications.
Titebond's Utlimate TightGrab Adhesive is the best choice when you need to bond heavy materials to a vertical surface instantly. On this project, it was used to adhere exterior cladding to the building, allowing the workers to set one piece and move to the next with confidence.
Titebond's DuraMaster Sealant is the best choice when you need to create a flexible joint between two dissimilar materials. On this project, the sealant was used on the exterior of the building in the joint between the windows and doors and the stone-veneer siding. The sealant bonds to most common building materials, remains flexible over time, and can be easily cleaned up with just water. This sealant is the first elastomeric, water-based sealant with 100% joint movement. DuraMaster also provides four times the durability of other sealants while staying flexible and crack-proof.
And finally, we have Tightbond's woodworking glues. Titebond II water-resistant glue and Titebond III waterproof glue. Wood glue is used to tackle a variety of tasks, including building exterior window lintels, assembling interior door jams, and adhering cabinet base trim, among other things.
Titebond really does offer a sealant and adhesive solution for just about every project. But this is just a handful of the products the company offers. For more information and to see their full product lineup, visit www.titebond.com.