Sponsored Post
Final Finishing Details on a Contemporary Remodel
Watch how Fine Homebuilding House Connecticut has transformed with the help of Benjamin Moore's paints and stains.
Sponsored by Benjamin Moore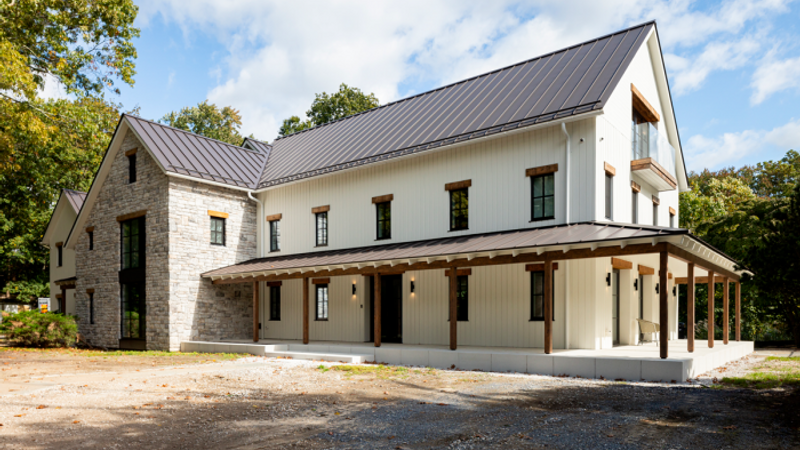 Welcome to Fine Homebuilding House Connecticut, a project where we took an old traditional New England–style home and turned it into a sleek, contemporary house with all new mechanical systems and overall higher energy efficiency. A lot of little details add up to make the finished product, such as the interior and exterior paint. Let's take a look at how Benjamin Moore products helped get us there.
Every good paint project starts with a quality primer for the walls and ceilings. On this project, the team chose Benjamin Moore Ultra Spec 500 latex primer. It is low VOC, it dries quickly, and it provides a nice uniform base for the top coats that follow. Top coats are your chance to add color and sheen to the finished product. On this job, the team chose Benjamin Moore Regal Select in an off-white shade called Chantilly Lace. It's a beautiful white with cool undertones that brighten up each room and allow some flexibility for design opportunities. An Eggshell sheen was chosen for the walls, and a Satin sheen for the trim, doors, and cabinets.
Chantilly Lace was used throughout the house, except in the billiards and theater room, where the team switched to a deep, luxurious color called Kendall Charcoal using Regal Select in a Flat sheen. The Flat sheen was used on the walls and ceiling to lower any reflective light, but the painters switched to Eggshell sheen for the doors. Regal Select offers great coverage and color retention, and ensures a quality, durable, and easy-to-clean surface.
After considering eight samples of various off-white colors, the homeowners decided on Regal Select MoorGard Low Lustre Finish in Glacier White for the exterior of the home. The siding came pre-primed, so only two top coats of paint were needed.
Paint wasn't the only Benjamin Moore product used on the exterior. The homeowners also had some wood stains to choose for the garage doors and porch posts. For the garage, Benjamin Moore Arborcoat Classic Oil Finish in translucent Cedar was used just to add a pop of color while still allowing the wood grain to shine through. On porch posts and beams, Arborcoat Classic Oil Finish was applied in semi-transparent Cordovan Brown. Semi-transparent stain has a bit more color retention than a full translucent stain while still allowing some of the texture of the wood posts to come through. Arborcoat is great because it's water repellent and mildew resistant, and provides UV protection to the surface.
It's been really fun to watch this transformation from traditional to contemporary, and Benjamin Moore paints and stains have played a huge part in helping dial in that final look.
Photography courtesy of Allegra Anderson