Sponsored Post
Country Loft Boosts Performance With Resilient Mechanical System
A high-performance building envelope and Mitsubishi Electric's ductless three-zone Zoned Comfort Solutions® system work together to provide comfort year-round.
Sponsored by Mitsubishi Electric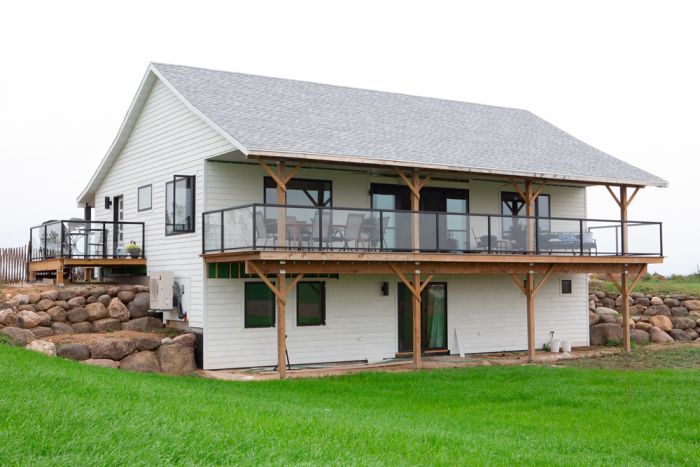 Each year, the Fine Homebuilding House serves as a full-scale demonstration of trending building styles, methods and materials. The 2021 home, completed over the summer in Madison, Wisconsin, exemplifies high-performance building and practicality while showcasing tasteful, functional design.
The 2,700-square-foot home merges its site's rural landscape with architectural elements commonly seen in trendy urban lofts. This design decision pays homage to the former New York City residences of the home's builder, Ian Schwandt of TDS Custom Construction. Dark, industrial, modern interior finishes combine with a farmhouse exterior and floor plan. Vaulted ceilings and elevation changes seamlessly complement the lot's sloped topography. The result? A unique architectural style deemed "country loft."
Combining Beauty with Function and Performance
Visual appeal distinguishes the home, but the systems and components providing smooth and efficient operation behind the scenes also deserve recognition. The project is also the personal home of Schwandt and his family, so the designer directly benefits from the year-round comfort and low utility costs achieved with the high-performance building envelope and efficient mechanical systems.
The home is conditioned using a ductless multi-zone system from Mitsubishi Electric, installed by The Thielmann Group of nearby Burlington, Wisconsin. As Mitsubishi Electric Elite Diamond Contractors, the contracting team was well-versed in the heat pump options available to Schwandt and provided recommendations tailored to the home's goals for design, efficiency and comfort control. The finalized system includes Deluxe Wall-mounted Indoor Units, an MHK2 wireless Wall-mounted Controller and WiFi interfaces. The zoning capabilities allow the Schwandt family to set distinct comfort zones within the home. If the loft needs to be kept warmer than the main living area, or the bedrooms feel too warm, they're able to individually control each indoor unit's airflow and temperature settings.
No matter their setpoints, all three comfort zones connect back to one, 2.5-ton MXZ heat pump outdoor unit equipped with Hyper-Heating INVERTER® (H2i®) technology. This technology allows the unit to operate at 100 percent capacity in outdoor ambient temperatures as low as 5° F, boosting the home's resiliency through Wisconsin's notoriously cold winters. The system is supplemented by auxiliary baseboard heaters in the main living area and a combination boiler provides on-demand hot water for the home's less insulated areas, the basement and garage. The home's controls system determines when the auxiliary heating energizes.
Coated for Resiliency
The Schwandt home uses MSZ-FS indoor units, a recently introduced model from Mitsubishi Electric featuring a patented, industry-first Dual Barrier Coating. Applied inside a unit's heat exchangers, vanes, air duct and blower wheels, the Dual Barrier Coating combats the build-up of potentially aggravating airborne particles. This feature's a game-changer in terms of system maintenance and helps satisfy the critical homeowner demand for energy efficiency, high-performance and simplified maintenance, all in one package.
As a professional builder, Schwandt is attuned to the growing demand for resiliency and durability. His commitment to keeping up with the changing built environment and its standards inspired him to build his home to meet Passive House standards for air tightness and energy efficiency. Schwandt and his family, along with any future homeowners of the Fine Homebuilding House, will live in an architecturally inspiring home built for exceptional performance.
To see the house and hear more from Schwandt, along with Mike Schaefer, Mitsubishi Electric performance construction manager, watch the Fine Homebuilding video.
To learn more about all-electric, multi-split systems from Mitsubishi Electric, visit MitsubishiComfort.com.