Sponsored Post
Insulating for the Long Term
Watch Jason Mollak walk through insulation strategies and detail how ROCKWOOL stone wool insulation products were used to improve thermal performance, lower sound transmission, and increase the home's fire resistance.
Sponsored by ROCKWOOL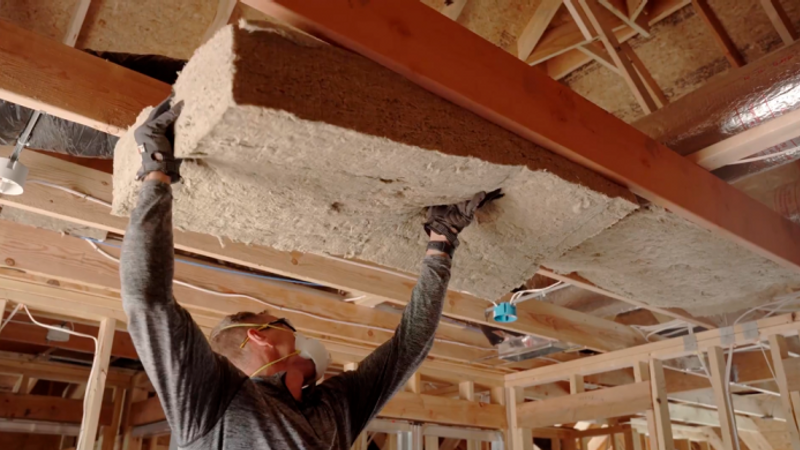 As a custom builder, Jason Mollak knows the importance of choosing the right products for each aspect of a project. This is particularly important when it comes to comfort and safety, and insulation falls into these categories. For his own home, Jason partnered with ROCKWOOL and developed an insulation strategy that made sense for the basement, walls, and roof.
The basement has two bedrooms and a living area, so it had to be comfortable. The team insulated the concrete foundation walls with ROCKWOOL Comfortboard 80 for a continuous R-5 before framing the walls. Above grade, the stick-framed walls have a combination of R-5 Comfortboard on the exterior side of the insulation and R-13 Comfortbatt insulation in the stud bays. The continuous exterior insulation mitigates thermal bridging through the framing and makes a more durable assembly by keeping the sheathing warm. ROCKWOOL is water repellent yet vapor permeable, which means that any water that gets behind the siding can easily dry and will not degrade the insulation. Finally, the attic floor was easily insulated with a combination of R-21 and R-30 Comfortbatts.
Keeping the house warm in the winter and cool in the summer isn't the only reason ROCKWOOL insulation was used to make the house comfortable. The company's Safe'n'Sound 3-in. acoustical batts were also used in interior partition walls, and 6-in. batts in the basement ceiling, for sound absorbtion. These products also provide an extra layer of fire protection. If there's ever a fire near or in the house, these insulation products will slow the spread of flames, giving more time to evacuate and get to safety.
Incorporating a suite of ROCKWOOL products leaves a well-insulated, comfortable home with lower energy costs in the long run.