Sponsored Post
Importance of Primer in Residential Painting
Learn from this third-generation painter how choosing a primer with strong adhesion prepares your walls and surfaces for the perfect paint job.
Sponsored by Benjamin Moore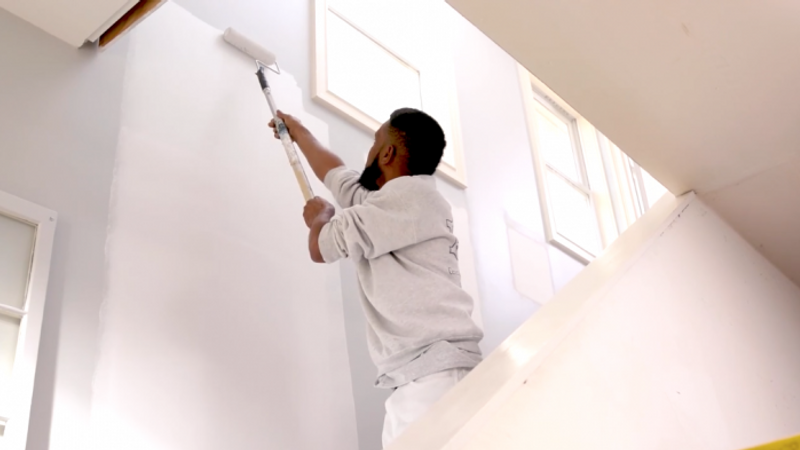 Training and education is helpful on so many levels. Teaching solid technique makes each painter more productive, and it's a morale-builder. George Apap is a third-generation painter who began working with his father in 1988 and purchased the family business in 2004. Since then he has used his experience and skill to direct the company, including teaching and educating new and upcoming painters through training courses on the right way to paint. He's building a culture that encourages people to love what they do, love the customers, and want to do a great job every day. That doesn't happen on its own. That happens through training.
One of George's main roles in his company is running the Apap Academy, where he focuses on training every aspect of the job from how to talk to the customer to how to roll off the final product. Most of the training is done at the Apap facility in Patterson, N.Y., through staged mockups that are set up for the technique the painters are learning, such as interior painting, machine sanding, power washing, and more.
Training includes how to prep surfaces to paint, knowing when to use primer, and how different scenarios should be handled. When teaching someone to paint over a glossy surface, preparation is key. First you have to degloss the surface to take the sheen off, and then clean and prime. George's go-to primer for glossy surfaces is Benjamin Moore Fresh Start Primer for it's tenacious grip that you want for the first coat of paint.
The roll-brush combination is really great for this primer application as the roller itself loads and levels, and then the brush tips off the surface to a beautiful finish. George says there's a lot that goes into painting technique. It's not just grab a roller and go—it's all about angle, where to put the pressure on the roller, how to achieve a proper rolling pattern, and how to leave it tipped off correctly.
George and his painters frequently do a lot of drywall repairs, and one of the advantages of a superior primer like Fresh Start is that you can prime over drywall patches. This allows a consistent base to top coat for residential repainting.
When painting a French door, George cuts tight to the glass with no tape and no razor blade–just a clean line. He teaches how to do this at the Apap Academy by communicating what's expected, demonstrating the technique, and then handing off the brush.
On this mockup, George is demonstrating how Fresh Start primer is great for coverage since it can be tinted to virtually any color. And Benjamin Moore has a Gennex® water-based tinting system that means you can add a lot of tint without impacting the quality of the adhesion. With this deep base primer, you're able to get consistent coverage with top coats.
For George, teaching people to paint the way he's been taught is his passion. And training through his program has resulted in more skilled painters on all projects and consistently happy clients.
For more information on Benjamin Moore products visit www.benjaminmoore.com
---
Related videos:
A Smart Way to Paint Cabinets and Built-Ins – Nick May of Walls by Design describes the system his painters use to quickly and efficiently hand- and spray-paint cabinets.
Linking Up With a Design Pro – Learn how this professional painter has partnered with a color consultant to bring beautiful, thoughtfully designed spaces to clients.