Sponsored Post
Passing The Brush to the Next Generation: The Painter's Daughter
Sisters and painters Jenna and Elizabeth Collins detail the impact of introducing and educating more women in the trades.
Sponsored by Benjamin Moore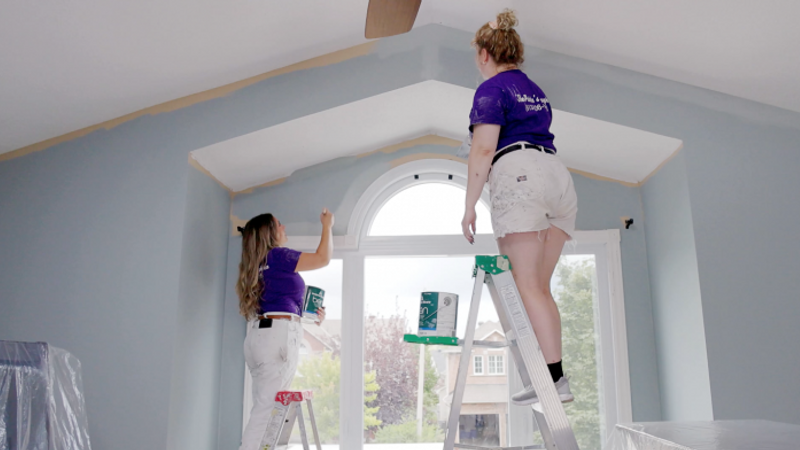 Jenna and Elizabeth Collins aren't just sisters–they're business partners as well, specializing in residential interior painting in Ottawa, Canada. The two opened up their own painting business, The Painter's Daughter, and named it in tribute to what their father, a third generation painter, had passed along to them– an opportunity to learn and thrive in the painting trade.
Growing up on job sites, the two sisters noticed the industry was largely comprised of male painters. Seeing the need for more women in the industry, they decided to own and operate their business as a female only crew, leading by example to prove that women can choose and thrive in careers in the trades.
"Our mission is to get more women into this industry so they feel that this is a viable career that they can succeed at," said Jenna. "When you learn a new skill, it translates confidence into every other area of your life. We've seen it with each other and we've seen it with our team and we really just want to keep promoting more women getting into an industry where they can feel those same things and continue to grow and flourish."
While Jenna works on the back-end managing booking, sales, marketing, and overall day-to-day management, Elizabeth leads the production side, hands on, with their crew of painters.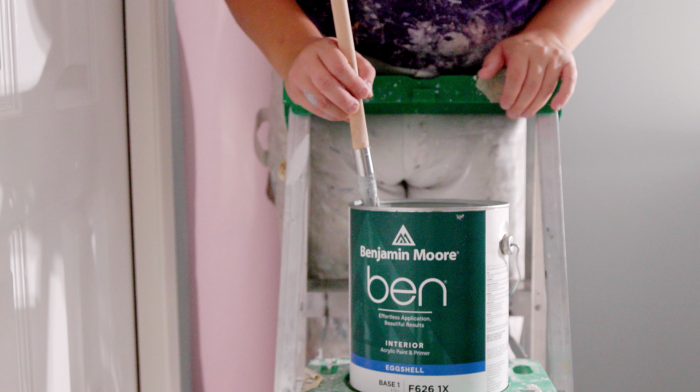 On this particular job, the team worked on painting a primary bedroom and a future nursery with ben® Interior Paint for a cost-conscious client who was looking to refresh their space before a new baby arrives. While it's common to cut in a room before rolling paint, The Painter's Daughter find it productive to work the other way around. Cutting in after rolling not only helps them find imperfections in the wall efficiently, but gives more time for drying before their second coat. After rolling and cutting in, the walls are left to dry over lunch until they come back to do the final cut and roll to get the space back to the clients as soon as possible.
Products play a huge part in the success of a final paint job. The Painter's Daughter has been using Benjamin Moore products because of their superior coverage, color retention, and overall consistency from job to job. Not only have they stayed with their products since opening their doors in 2013, but their father used Benjamin Moore on his residential projects before they even understood the quality that these paints provide.
"We want people to have us back. Not because the paint has failed, but because they want to paint. And with high quality products from Benjamin Moore, we know that they're going to be so thrilled with what we've done, that they're going to want to have us back." – Jenna Collins
---
RELATED STORIES