Sponsored Post
A Faster Way to Square Mudsills
Travis Brungardt and Joe Cook of Catalyst Construction demonstrate how Stabila's LA 180L Layout Station made laying the mudsill and interior basement walls more efficient.
Sponsored by STABILA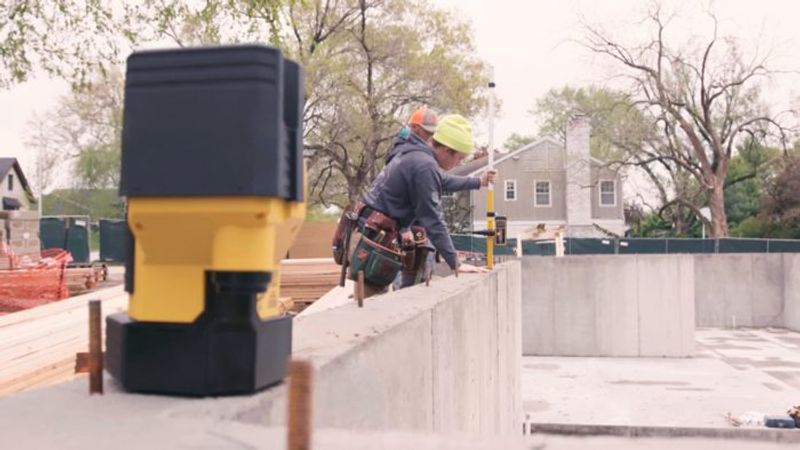 Typically before you start framing your floor system on your foundation, you have to square and attach your mudsill. This is often a three- or four-person operation in which you're snapping lines and pulling dimensions using the Pythagorean Theorem to get square. On this project, we chose to work with the Stabila Layout Station, the LA 180L. With this product, just one person can square all of the mudsill using just the receiver and the laser.
Using the Layout Station was fast and easy. We started by going 2 1/2 in. off the inside of our foundation wall, set the station, and then used the transmitter to broadcast a laser line which can reach from 20 ft. to 300 ft. The laser establishes a nice straight plane and can self-level up to 5°, and using a laser instead of a chalkline was an added bonus considering our recent wet weather.
For marking partition walls during basement framing, the Stabila Layout Station was a huge time-saver as we did not have to pull off of the concrete walls with a tape measure and then snap chalklines. We set the Layout Station in the corner on the longest straight wall, set our other perpendicular wall, and ended up with perfectly square corners that will make for easier shower and cabinet installations, and will benefit everything else that relies on this level of precision.
For the interior basement load-bearing walls, the layout was very similar to the mudsill. It all starts with your control mark. Once that's established, you just set the laser and go. Working with this tool has been a real game-changer on this project because things that we used to accomplish with two and three people are now done with one person and these components.
---
RELATED STORIES