Video Series
How to Build a Deck: Video Series Four: Elevated Deck, East Greenwich, R.I.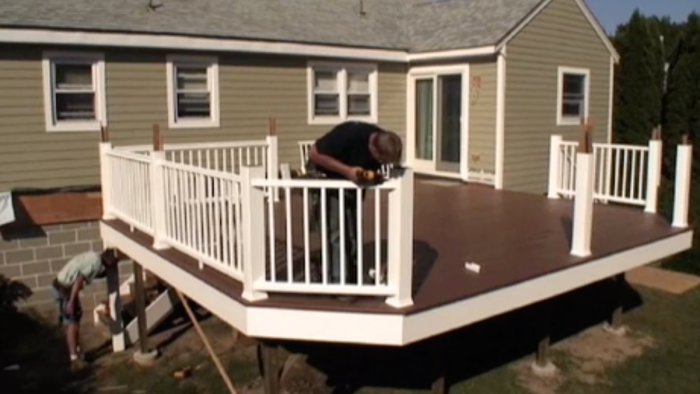 Since 2013, Fine Homebuilding has constructed four different decks and has created a series of start-to-finish how-to videos for each one. In each of these video series, you will learn every phase of the build, straight from the pro deck builders doing the work. Each series has its own particulars, so either choose your favorite project and dig in, or watch all four full builds! You'll learn the right and wrong ways to dig and pour concrete footings, see how to fasten and flash a ledger to a house so it will never rot, hear tips and trick for installing deck joists so they're flat and flush, learn the reason and right way to install each piece of code-required hardware, find out how to cut accurate stair stringers, learn how to fasten guardrail posts so they're practically bombproof, and master the skills needed to lay decking quickly and flawlessly.
Still not sure? Well, each series has an introduction video to show you the project in summary. These introductions are available to all viewers free of charge, so check them out:
Reading, Mass. This series focuses on the critical connections and hardware features you have to get right for a sturdy deck.
Woodbury, Conn. This build includes some interesting options, including Cumaru skirtboards and cable railings.
Newtown, Conn. If you always wanted to build a grade-level deck, this is the video series for you!
East Greenwich, R.I. Everything you need to know to build the perfect elevated deck.
If you are a FineHomebuilding.com member, you can see all episodes of all four series.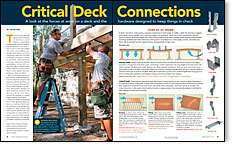 Read the related article, Critical Deck Connections, or watch the rest of the video series below.