Video Series
Video Series: Foyer Tile Installation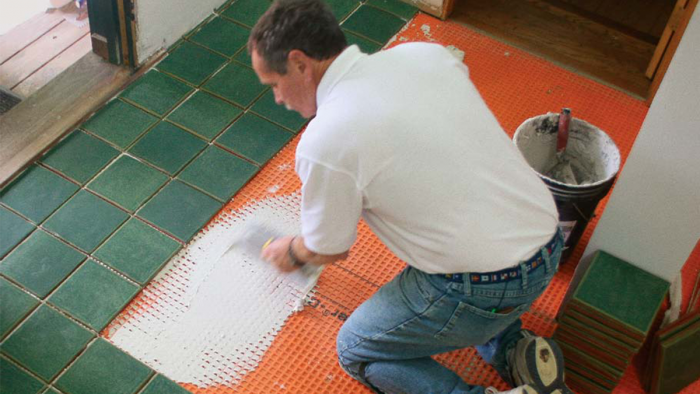 Tile is easy to maintain and a very durable flooring option. It's versatile and can look good in any room, and in heavy traffic areas that may see water, dirt, and mud like a bathroom or foyer, you would be smart to consider tiling. To help demonstrate how you can install this hardworking flooring yourself, editorial director Justin Fink met up with Tom Meehan, an experienced tilesetter, to walk us through tile floor.
With a brief explanation of which materials are being used and why, Justin and Tom get to work outlining the location of each tile. A dry layout is one of the most important parts of tile installation. When layering multiple materials on top of one another, it's integral that each piece of the build—whether it's thinset or tile—is in the proper location, or each following piece will be affected. Throughout the video series, Tom proves his decades of experience with small tips and efficient work. Tom's handiwork with a trowel demonstrates a level of skill any builder or tilesetter should aspire to have. Especially when using handmade tiles that are not always uniform in size like Tom and Justin do here, layout and cut adjustments on the tiles are necessary. Cutting tiles can be a bit dangerous and little odd when you have to cut a tile to an "L" shape to fit an outside corner. The trick is to angle the tile upward to allow yourself more control over the cut, but it is a skill you should see before you try yourself—watch episode two to see Justin demonstrate. Arguably the most important task when setting tile is the grouting. Tom and Justin use an epoxy grout for its strength and durability. Installing epoxy grout, though, is a race against the clock and requires fast but effective hands to install it all because once the grout hardens, it's going to take a lot of effort to remove it. Split the floor up into manageable sections and work one section at a time, but if you find yourself losing to Father Time, Tom recommends you grab everyone you can and get all hands on deck.
Tiling is one of those jobs where if you do it well, nobody will ever notice. You never want to be the person responsible for a poor tile job that attracts attention, so you have to make sure you know what you're doing and get it right. All the tools you'll need are readily available, but the proper techniques to evenly space, lay down, and grout the tiles are hard to come by. Luckily, these three episodes have all the information you need to create a long-lasting tile floor.
Read the companion article:
Project House: High-Traffic Tile Floor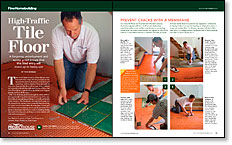 For video of Tom Meehan laying down a bathroom tile floor, click here.