Video Series
Video Series: Building a Curved Step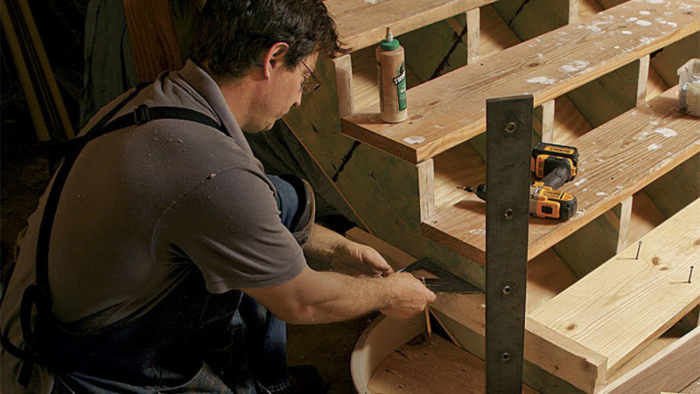 In this segment of Master Carpenter, Chuck Bickford and John Ross travel to Michigan City, Indiana, to meet up with carpenter Mike Belzowski as he builds a curved stair riser. Mike confesses he opted for a curved stair riser because he wanted to give himself a challenge, but the principles involved in his precise and careful process can be applied to any finish carpentry project.
Mike starts the process by creating a massive template with all of his custom elements drawn to scale. He keeps good design practice and puts as much detail on the plan as possible, so he can keep using the template as a reference guide. Too much information is always better than too little when cutting and fitting different components. Using that template as his guide, he'll build the form by first using a jigsaw to cut the rough shape; then he'll go back through with a router to clean up the profile, and then repeat the process stacking each piece upon the previous one to get the height he needs. The lamination process requires precision and fast hands, and is an easy place to slip up. Once the glue is on your piece of laminate, you have a limited amount of time to get it attached and clamped to the riser. Mike is very efficient and watching him work quickly and effectively is a great example of how to go about working with thin wood lamination. All the rest of the build needs is some trimwork to create the perfect curve, and then an installation like any other.
The final product comes out looking great, and is a simple way to add a little more style to your staircase without it being overwhelming. Even if you're not looking to create a curved stair riser, using Mike's steps as a guideline to working out your own design is a bright idea. The shortcuts Mike takes—and the pieces he works slowly—all come from the decades of experience he has under his belt. This video series will teach you how to take a complicated project and work through it without a hitch.