Video Series
Video Series: Finishing an Exterior Door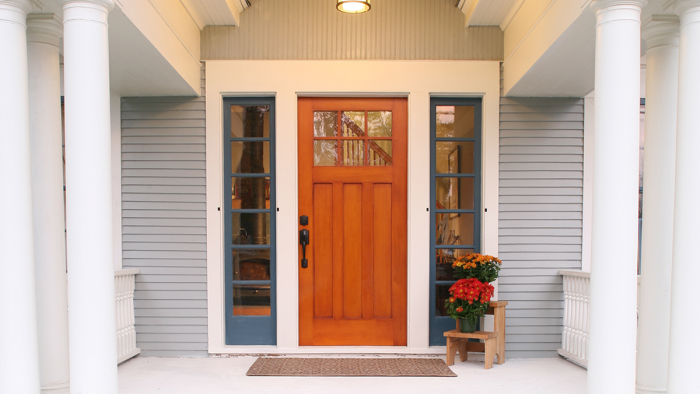 In this series, editorial director Justin Fink travels to East Haddam, Connecticut to visit with finishing expert, Peter Gedrys. These seven episodes will take you through the process of finishing an exterior door. Anybody with the proper tools can stain and varnish a door, but the end product will resemble the work of an amateur. To create a beautiful door, you need to do a little more than stain and varnish—which this video series will cover. So, if you're going to proudly display your work on the exterior of your house, why not make it something you're proud of?
This series stars with the very important initial step of sanding and prepping the door—a step plenty of people mistakenly skip entirely. The sanding will soften edges and eliminate snags and splinters in the wood that won't accept color well. After, Peter shows how to create a ground color for your door. The one surefire way to make sure you're 100% happy with the color of your door is to develop it yourself. It's not hard, it just requires patience and a little experimentation. A coat of shellac is applied next to seal up the dye that creates the ground color. Then, Peter shows how he creates a stain and mixes it with glaze, so it can be applied most efficiently. The techniques in this step are incredibly important. This step allows for freedom and creativity, so you can get your door to look just right, but you have to go about it the right way or your stain might not apply properly or look how you thought it would. Once the stain is applied and touched up, on goes the varnish to really bring the color alive.
Peter's experience in the field shows through this video series. He could sand and coat a door with his eyes closed if he had to. He understands what small details and technique help create a better final product. From gently dipping a foam brush and letting it absorb the paint slowly to brushing away from edges instead of pulling, Peter is a perfect person to teach this craft.
Read the related article:
Fabulous Finish for an Exterior Door