How-To
Deck Design
A guide to the basics of deck construction.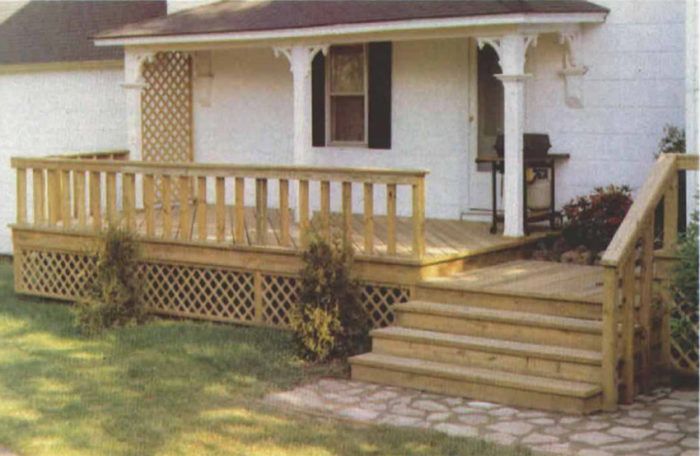 Synopsis: A thorough discussion of the design decisions that go into making a durable exterior deck, such as choosing the most appropriate materials and building it so it won't trap water and rot. The information is fundamental and should be useful no matter what style of deck you're building. The emphasis is on above-ground components.
A properly built deck should last a lifetime. But for this to be possible, you must constantly think about nature's elements as you design and build it. If you don't, trapped moisture can promote bacterial degrade that will slowly eat your deck away.
Planning the deck
A deck is an intermediate space between the controlled environment of a house and the raw elements outdoors. Since a deck can expand the living area of the house and serve as an entry, it's important to consider traffic patterns in your planning. Avoid paths that cross through activity areas, and arrange for them to be as direct as possible. A path improperly located can isolate small areas and render them nearly useless.
A deck can accentuate the good features of an area and minimize the bad ones. It can conceal a fuel tank or snuggle around a tree. Decks are great for hiding ugly foundations, service meters or old concrete patios. Let these existing elements influence your deck design and they'll make your job easier. The space under a deck can be used to store firewood, too.
Safety is an important consideration when designing a deck. For instance, a landing in front of a door needs plenty of room to allow the door to open with at least one person on the landing. A low walkway that may be just fine without a railing in the summer can be most dangerous in the winter, when snow conceals its edges. Define these edges and all corners, using posts, trees, bushes, rocks or any other visual device on or off the deck that will help make the feature more obvious.
Designing a deck can seem complex if you've never built one before, so beginners should make a detailed drawing of the entire layout, board by board. Once the design is on paper, it's fairly easy to compile a list of materials. Planning the layout and orientation of a deck is at least as important as building it.
Estimating costs
We've been building decks in New York State for seven years, and we use the following figures for rough estimates of the materials and labor needed to build a deck: $8 per sq. ft. for decking (including the framing and footings), $7 per sq. ft. for stairs, $10 per lin. ft. for simple railings, $15 per lin. ft. for bevel-cut railings and $20 per lin. ft. for benches. These figures reflect our company's wage scale, construction speed and craftsmanship, and if a deck design is particularly unusual we'll adjust the figures upward. For those who work alone or with minimal help, the following materials-only estimate, based on prices for #1 pressure-treated lumber in New York State, will help determine approximate costs: $3.00 per sq. ft. for the decking lumber, $4.50 per sq. ft. for stairs, $2.25 per lin. ft. for railings, and $8.25 per lin. ft. for benches. The type of construction you use, and the level of detail you include, will have a significant effect on the expense of your deck.
For more photos and information on deck design, click the View PDF button below. 
View PDF