How-To
Trimming Out the Main House
Building a Victorian headquarters for George Lucas.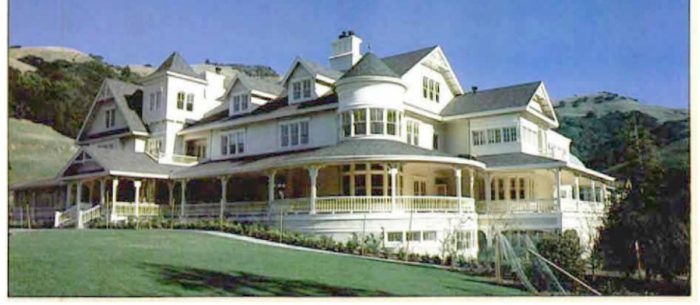 Synopsis: This is a story about trimming out the main house at film mogul George Lucas's Skywalker Ranch in California, a 45,000 square foot Victorian Revival mansion. It's a job-site tour where the region's best woodworkers are turning out truly classic work.
In a rural valley just north of San Francisco, a working ranch is being developed. In this grassy, rolling countryside, dairies are common. But on this ranch, the old milking shed is where power tools and air compressors are repaired. Next to it, a new 15,000-sq.-ft. barn houses a mill shop outfitted with the best woodworking tools that money can buy and staffed by some of the most talented woodworkers on the West Coast. Their job is to produce parts for the various buildings that will be a complete pre-production and post-production filmmaking complex for Lucasfilm. The ranch will eventually have facilities for film editing and sound recording, as well as offices for the people who will maintain the complex. The buildings are arranged in small clusters across 2,600 acres of land, and each one is done in a turn-of-the-century style, such as Shingle or Queen Anne Victorian.
The jewel of the ranch is the Main House, and it stands at the upper end of a small valley. The Main House is a grand Victorian flagship of a building with 6,000 sq. ft. of covered porches, a turret, a tower, dormers, gables with fretwork panels, and numerous chimneys. One wing has raised elliptical panels above banks of casement sash. The tower with arch-top sash is decorated with starburst panels, corbels, dentils and built-up cornice moldings. Almost 2,000 ft. of ornate handrail encloses the porches. The house has almost 500 windows, many of which are double-hung sash with radiused glass.
The Main House covers 45,000 sq. ft. on four levels. It includes executive offices, a library, a screening room, a commercial kitchen, breakfast, dining, conference and living rooms, ancillary offices and editing workrooms, not to mention all the bathrooms, coffee kitchens, mechanical and electrical service rooms, and an elevator. There are also 13 fireplaces and a 12,000-amp service panel.
The interior of the house overflows with exquisite woodwork. One cannot help but be awed by the luxuriant atmosphere. The construction took three years. Twenty-five finish carpenters, myself among them, worked on the house at the peak of the project.
Background
Because of the highly specialized functions of many rooms and because it was built to commercial code in earthquake country, the house embodies unusual structural, mechanical and electrical systems.
The framing is of 2x6s and 3x6s with tubular steel posts, K-braces, wide-flange beams and glue-laminated beams. Within the walls and floors are conduits carrying fiber optics, computer, telephone, security, stereo, heat and smoke-detection systems, fire sprinklers and HVAC ducting, in addition to plumbing and electrical systems. Because Lucasfilm uses the most advanced technologies, we even installed runs of empty conduit for linking electrical systems that haven't yet been invented. All walls have at least two layers of 5/8-in. gypsum board on each side, some as many as four.
For more photos, drawings, and details, click the View PDF button below:
View PDF