Design
Chinkless Log-Building
Coping logs with chainsaw and scriber.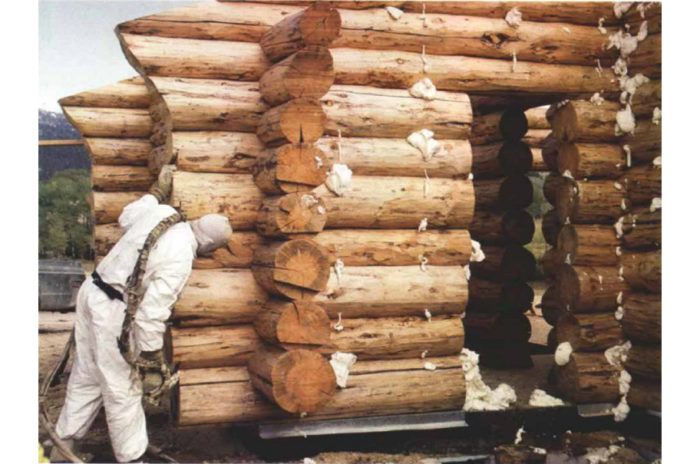 Synopsis: A log builder shows how "Swedish coping" eliminates the need for chinking in log structures. The process involves cutting a V-shaped groove in one log and scribing it to fit its neighbor.
For years log builders have been experimenting with ways to join logs lengthwise to eliminate the need for chinking—the practice of filling the gaps between adjacent logs with wood or caulking compounds. Chinkless log construction goes by many names. In our part of eastern Idaho, it is known as "Swedish coping," presumably because a group of Swedish immigrants first did this type of work around nearby Dubois and Jackson Hole, Wyoming. "Fully scribed" and "Scandinavian scribe-fit" are other common names for the chinkless method.
Difference in names aside, the idea is generally the same: a scribed notch, usually V-shaped in section, is cut lengthwise into the underside of a log to allow it to conform to the log below it in a wall. In conjunction with the lengthwise notch, a rounded hollow called a "saddle cope" is used where the logs intersect at building corners.
A Swedish cope wall is an attractive wall inside and out, and the maintenance that goes with chinking is eliminated. But until recently, builders and homeowners have usually found this practical advantage of chinkless log-building to be more theoretical than actual.
In the real world logs shrink, twist, and settle, and it takes more than a wrinkle of the nose to cut the half-mile of V-notch and the hundred or so saddle copes required in even a modest-size house. Traditional methods for scribing and hand-cutting these notches are very time-consuming. This fact, combined with structural nuisances caused by log movement, have given the Swedish cope a reputation for being beautiful, yet expensive and unpredictable.
But all this is changing. Streamlined approaches to joinery and modern insulation techniques have led to a rebirth of this fascinating style of log work in our part of the country. In this article I'll talk about how our crew uses contemporary methods and tools to build Swedish cope walls for log homes.
About logs
Our local log builders have been supplied with an abundance of ideally seasoned material by a wood parasite called the mountain pine beetle (Dendroctonus Ponderosae). As though created and turned loose in the woods by a mad geneticist/log builder, the beetles attack only mature lodgepole pines. The adult beetles fly from tree to tree, burrow into the bark, and deposit eggs. Feeding on the inner bark, their larvae tend to burrow horizontally, and in so doing, girdle the tree and kill it.
The trees usually remain standing for years after death, and thus are air-dried to perfection. Two side effects of beetle infestation add to the beauty of the logs: the marks left by burrowing create intricate patterns on the logs that can often be preserved if a light touch is used in bark peeling. Also, the beetles carry with them a blue-stain fungus that spreads throughout the sapwood, creating varied coloration in the logs.
For more photos and details, click the View PDF button below:
View PDF