How-To
Hydronic Radiant-Floor Heating
Concrete slabs, thin slabs, and metal plates offer different ways of routing radiant heat underneath every floor in the home.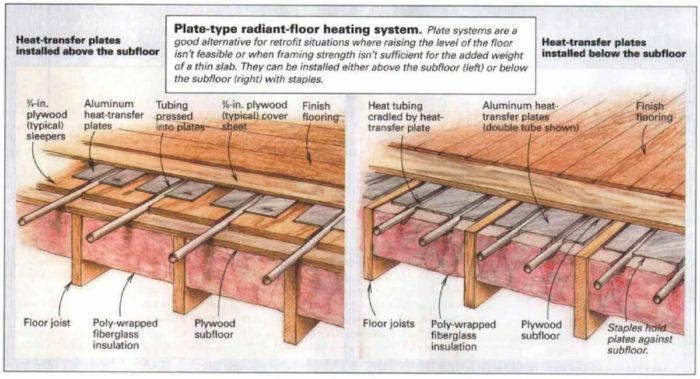 Synopsis: Different techniques offer flexibility for installing the ultimate comfort system under a variety of finished flooring materials.
Living in a house with radiant-floor heating can almost make you forget that it's winter outside. I can't think of any other heating system that is as comfortable. Like a campfire on a cool night, heated floors deliver warmth to the skin and clothing without overheating and drying out the surrounding air.
Although usually associated with thick concrete slabs, hydronic radiant systems are now versatile enough to install underneath almost any type of finish flooring. New materials and installation techniques make hydronic heating adaptable to a great range of flooring choices. Although a complete hydronic under-floor heating system requires a boiler, manifolds, and controls, this article focuses on tubing installation.
Basically, there are three methods of bringing radiant heat underneath the floor of a room: a slab-on-grade system, a thin-slab system, and a plate-type system. Each type has advantages and disadvantages, but each system relies on tubing circuits laid underneath the floor. Rooms are heated by warm water circulating through these continuous circuits of tubing. The various circuits receive their heated water from a central supply manifold, a distribution point (like an electrical junction box) that receives water directly from a boiler. After circulating through the tubing, cooled water returns via the return manifold to the boiler to be reheated.
Special considerations for radiant-floor systems
There are some general rules that apply to all types of hydronic radiant systems that can make the difference between success and failure. First, always have an accurate heating-load estimate for the spaces to be heated. Reputable dealers of floor-heating equipment are a good source of assistance, and most can provide complete designs, including load estimates, layout drawings, and help with the sizing and the selection of system components.
Try to include a radiant-floor heating system as early as possible in the house-design process. Accommodations for insulation, load-bearing, floor thickness, and other details are more easily and inexpensively resolved early in the process rather than later.
You must be aware that due to their thermal mass, slab-type floor-heating systems are slow to respond to thermostat changes. It can take several hours to bring rooms to comfortable temperatures after prolonged setbacks at lower temperatures, so floor-heating systems are more suitable for locations where stable indoor temperatures are desired.
Don't use floor coverings with high thermal resistance over heated floors. Like wool blankets, high-resistance floor coverings such as plush carpets and pads or multiple layers of plywood under thick hardwood floors effectively insulate the radiant floor from the room that it's supposed to heat. If these floor coverings will be used, make provisions for a supplemental heating device such as a panel radiator or fin-tube baseboard to supplement or even to replace the floor-heating system in that portion of the house.
For more photos, drawings, and details, click the View PDF button below:
View PDF