How-To
A Different Approach to Tiling Floors
Unlike a plywood or backerboard substrate, a modified mud job might be more reliable over the long haul.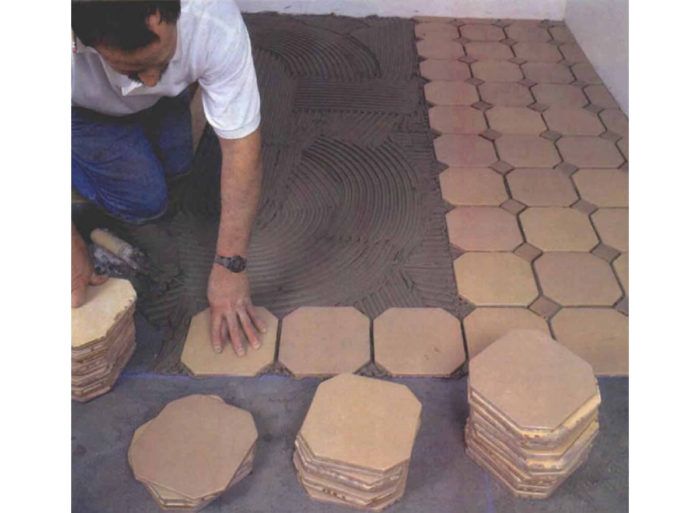 Synopsis: Although tile floors are frequently installed over a substrate of plywood or cement board, the author describes a technique for making a substrate with a thin layer of mortar. His approach has some of the advantages of a full mortar bed but it's not as thick. And it isolates the tile from any movement in the subfloor.
Hey dad, those dots down at the end are crooked," Christopher, my 5-year-old, observed while looking over my shoulder at a recent job. He was referring to the small square tiles that I was installing between larger octagonal tiles, and sure enough, those dots were crooked. I had to chuckle because Christopher's remarks sent me back 25 years, when I first tagged along with my dad on tiling jobs.
Back then, I figured I was a big help to my dad, but having one less kid underfoot was probably more of a help to my mom. Now I have my own tiling business, and I bring Christopher along on jobs when time and safety allow. As Christopher grows up, tools and techniques will continue to evolve. But proper prep work will always be the most important part of any tile job.
Take the bounce out of wood floors
Most of the tilework I do these days is in houses with wood-frame floors, and there are many approaches to laving tile on top of these floors.
To make a wood-frame floor structurally sound, I like to work with a substrate thickness of at least 1 1/4 in., which includes the subfloor and any underlayment. If I have doubts about the strength of a certain area, I check the floor for spring or movement by walking on it. Any give in the floor can mean cracked or loose tiles or loose grout in the future.
But floor stiffness isn't the only consideration when building up substrate to the proper thickness. Tile substrate also has to be stable. Some tile installers just put down layers of underlayment plywood to achieve the right thickness, and I've occasionally and reluctantly installed tile over this type of floor. My reluctance stems from the fact that wood expands and contracts with changes in temperature and moisture. On the other hand, tile moves very little and, when installed directly on top of plywood underlayment, can crack as plywood moves, especially at the seams between the sheets. Areas of high moisture such as bathrooms and kitchens are even more prone to underlayment movement.
If a bathroom or kitchen is small, I sometimes use a layer of fibrous or cementitious backerboard specially made for ceramic tile. Backerboard is more stable than plywood, installs quickly and bonds better to mortar. However, I don't think backerboard is as rigid as plywood. So when I do use backerboard, instead of using a single thick layer, I install a thin layer of backerboard over a layer of plywood to make the substrate stronger. But even when backerboard or plywood is properly installed, the seams between sheets can telegraph to the tile as the substrate moves. Telegraphing, the most common tile problem I see, can cause tile to crack or grout to loosen in conspicuous lines across the floor.
For more photos and details, click the View PDF button below:
View PDF