Tools & Materials
Lasers on the Job Site
Are these electronic stringlines useful tools or high-priced gimmicks?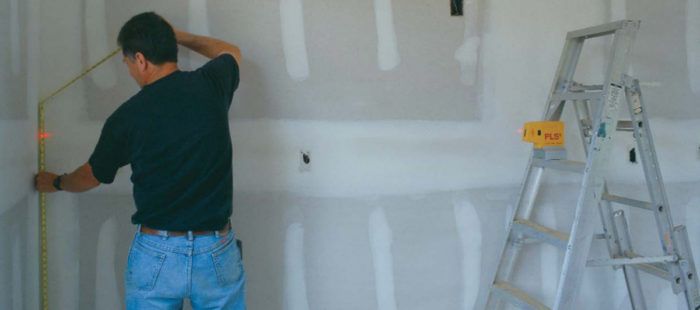 Synopsis: A builder discusses the general characteristics of laser leveling tools and how they can be used on the job site. He reviews four stick laser levels, three rotary laser levels, and three self-leveling laser levels.
Last year, our building and remodeling business got a contract to renovate an old barn that would become a historic small-boat museum. The barn was to be moved a short distance and set on a new foundation in Woods Hole, Massachusetts, the southern bay-front tip of the town of Falmouth.
A major part of the job was installing two yellow-pine laminated roof arches to support the aging structure. The arches were delivered in two halves each, which were to be fitted and mitered on site. The discounted price for the arches was about $4,000. Once ordered, they would be mine. Well, they had to fit.
In our discussions about how to find dimensions inside the crooked old barn, the notion of laser technology came up. We thought laser leveling tools might be helpful in laying out the arches, especially in the space under the ridgeline. In my effort to find out about the tools, I called Fine Homebuilding. As it happened, the magazine had not published an article on laser tools. With tongue in cheek, one of the editors asked if I was volunteering to write an article. To make a long story short, I took on the task.
Don McBride and Steve Bibbo, two carpenter/builder friends of mine, helped me to evaluate the lasers. After the barn job (which came out fine with the help of the lasers), we had to look for ways to use laser levels. In time, though, we found ourselves reaching for some of them quickly and shaking our heads at how the tools simplified and sped up certain tasks.
There are more laser tools made than we reviewed. We examined a representative sample of the equipment that is on the market now and that is likely to be used by residential builders. Several job sites served as our lab. We used the lasers for all kinds of tasks and checked them for accuracy against themselves, against each other and against conventional equipment such as plumb bobs and high-quality spirit and builder's levels.
A laser is an amplified beam of light
Laser is an acronym for the phrase "light amplification by stimulated emission of radiation." In a nutshell, a laser is an amplified, focused beam of light emitted from a solid-state device called a diode. Laser beams can be bent and split by mirrors and prisms. Whether a beam is visible depends on the frequency of its light. Manufacturers have incorporated this fundamental technology in a wide variety of tools.
We looked at three basic categories of laser levels: stick, rotary and self-leveling. The simplest are the rail or stick type. Basically, these tools consist of a laser inserted into one end of an ordinary spirit level. They're commonly placed on a leveling base that is adjusted in much the same way as a transit or a builder's level. Once the leveling base is level, the laser beam can be rotated in any direction. Generally speaking, the tools in this category are the least expensive.
For more photos and details, click the View PDF button below:
View PDF