Insulated Headers for Cold Climates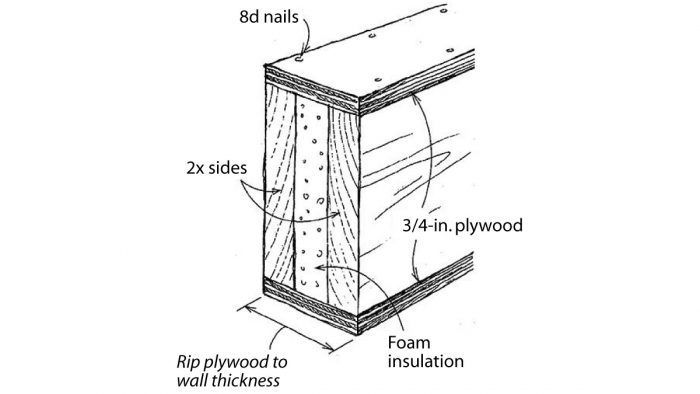 I've seen a lot of different ways to make built-up headers on job sites here in Wyoming — from the traditional to the bizarre. The traditional method is to sandwich 1/2-in. plywood between 2x material until you get the desired thickness to match the depth of the wall studs. Unfortunately, this causes two problems. First, wood never behaves the way it should, and by the time the header is finished, it isn't the same thickness as the wall. For a 2×6 wall, for example, the header often ends up at 5-5/8 in. or thicker, if the material is cupped or twisted. When trim time rolls around, you have unhappy carpenters. Second, this kind of header has no insulative value.
The drawing shows the header that I've been assembling to solve both of these problems. It's essentially a box beam with plywood tops and bottoms, and sides made out of either 2x or, my favorite, laminated lumber. The result is a header precisely the same dimension as the wall and a continuous void the length of the header for insulation.
My engineer had no problems with the structural capability of this design. The key is to provide adequate nailing through the plywood into the sides. For these headers, I used 8d nails spaced on the same centers as the perimeter nails in our plywood wall sheathing. The results were the absolutely most perfect, easiest-to-work-with headers I have ever seen.
Bill Welch, Jackson, WY
Edited and Illustrated by Charles Miller
From Fine Homebuilding #115