Design
All About Driveways
Handsome, safe and durable driveways provide room for parking, turning and play, and are built on a stable, well-drained base.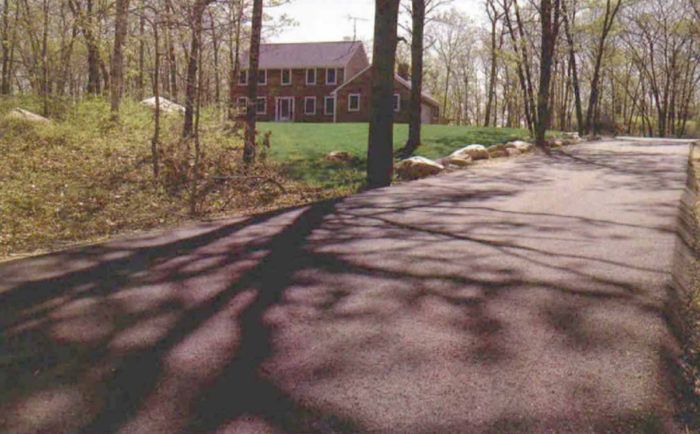 Synopsis: This article provides details on how to design a driveway to allow adequate turning and backing room, and compares materials that can be used for the finished surface. The author also explains the importance of site preparation, including compaction and subsurface drainage, to avoid problems later.
I've lived in three houses with bad driveways. The first drive was gravel and subject to washout. After every major downpour, I'd be out on the street, shoveling and wheelbarrowing a couple of tons of my driveway back into place. The second was paved, but it was long, steep and north-facing. In winter, ice was a recurring problem. Although sledding down it was fun, driving on it could be terrifying. The third house's driveway feeds into the intersection of three streets. It has no turnaround area. If there is no traffic when I come home, I quickly back in. If there is traffic, well, I drive straight in and hope there's none when the time comes to back out.
The third is an older house, and its driveway likely wouldn't be permitted today. Most municipalities have ordinances that prescribe where driveways may intersect streets, maximum grades, turnaround areas and sight distances at the street. Ordinances often specify where storm runoff must drain; how much, if any, of the driveway must be paved; and how driveways may cross sidewalks and curbs.
Often, towns are concerned only with the driveway's intersection with the street. Most driveway ordinances are weighted heavily toward this topic. Because there is no uniform national code governing driveways, local requirements vary greatly. The first guideline that should be applied to driveway design is your local code.
But there's usually more to a good driveway than is specified in local ordinances. In researching this article, I talked to engineers, excavators, inspectors and architects. I read driveway ordinances from places as diverse as Warren County, New Jersey, and Brisbane, Australia, as well as excavation textbooks and manuals published by trade associations. This article springs from the common ground between these various sources.
Driveways are for more than cars
After finding out what the town requires, the next stage in planning a driveway is to think about how it will be used. Will all the cars always be parked in the garage? If not, you should plan for parking that leaves room to turn cars around. Do the kids need a place to shoot hoops? More room. Does it snow where you live? If so, where will you put the snow that's cleared from the driveway? Where will you park that motor home you've dreamed about?
And what if you should need to get a fire truck close to the house? If the driveway's curves are too sharp or if the drive becomes a quagmire in the spring, firefighters may be forced to watch the house burn from afar.
For more photos, drawings, and details, click the View PDF button below:
View PDF