How-To
A Safer Job Site
OSHA and NAHB team up to identify the key safety issues for residential builders.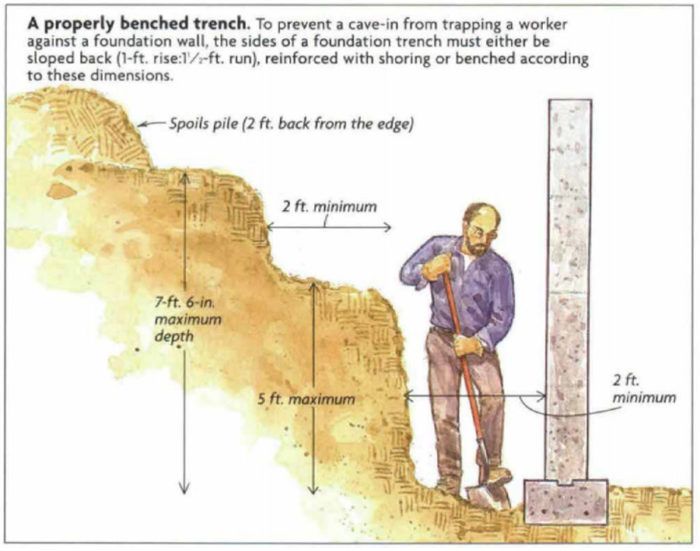 Synopsis: A helpful guide to make the job site safer, this article explains correct techniques for using a ladder, digging a trench, erecting scaffolding, and attaching roof brackets.
For almost 30 years, the Occupational Safety and Health Administration (OSHA) has been ordered by Congress to "assure every working man and woman in the nation safe and healthful working conditions." Unfortunately, keeping tabs on safety is a much easier task in manufacturing plants and large commercial construction sites than on thousands of small residential job sites scattered all over the country.
Recognizing that many residential job sites could be a lot safer, the National Association of Home Builders (NAHB) has worked with OSHA to assemble an easy-to-follow booklet of minimum safety standards. The first edition of the NAHB-OSHA Jobsite Safety Handbook was published in 1996, but it sold out quickly. Fortunately, a new, slightly revised edition came out early last year.
According to David Delorenzo, NAHB's director of labor, safety and health services, the NAHB-OSHA partnership is "not about enforcement; it's about improving safety…. [We're] trying to get away from the days when OSHA cited people for not having an MSDS (material safety data sheet) for motor oil. Now, motor oil hasn't killed anybody on the job site that I've seen. Let's look at the hazards, and let's figure out how to address them. That's what this is all about."
Not surprisingly, then, the NAHB-OSHA Jobsite Safety Handbook focuses on serious hazards, especially the big four: falls, electrocution, trenches and falling objects, which together account for almost 90% of the deaths in construction.
Although the NAHB-OSHA Jobsite Safety Handbook is not intended as a substitute for the complete book of OSHA safety regulations (29 CFR1926), according to Delorenzo: "If you're following everything in there [and you get a visit from OSHA], they're going to realize this is a safe site."
Copies of the booklet can be obtained from the NAHB bookstore. With a $10 cover price ($8 for NAHB members; bulk-rate discounts available), the NAHB-OSHA Jobsite Safety Handbook is cheap insurance against disaster. Every builder should have a copy. In the meantime, here's a sampling of the book's most important safety issues.
A hard hat is no substitute for a safe job site
Employers are required by law to provide personal protective equipment such as safety glasses and hard hats. Far more important than having these devices on hand is the need for employers and employees to ensure a safe working environment. It's up to the employer to maintain an orderly, hazard-free job site and to provide adequate lighting to prevent accidents. It's also the employer's responsibility to educate workers on OSHA standards and company safety requirements.
Besides following the rules, it's up to the employees to make sure all their tools and safety devices are working properly. It's also the employees' responsibility to make sure their work never puts anyone else at risk and to report unsafe work practices.
For more tips on how to have a safer job site, click the View PDF button below. 
View PDF