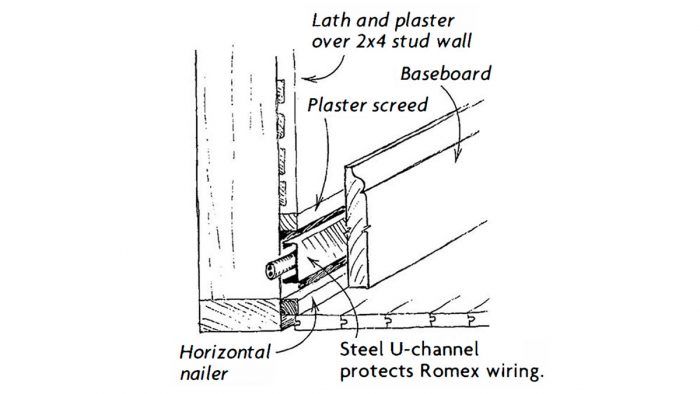 In March, I did a full-house rewiring of a 1920s two-story house that has a flat roof and a 1-ft. crawlspace. Without an attic or viable crawlspace for running wires, the job looked like a lengthy exercise in opening the walls, drilling studs and then patching the walls. To complicate matters even further, the walls were plaster over wood lath. All the drilling was bound to damage the existing plaster, which was still in good shape.
As shown in the drawing, the technique that I came up with to avoid these problems was to remove the baseboards and to run the wiring in the gap below the plaster screed and above the horizontal nailer. I stapled the wires to the faces of the studs, and then I covered the wiring with 3/4-in. by 3/4-in. by 1-1/2-in. steel U-channel. The channel comes in different dimensions and thicknesses. The material I used is nearly 1/8 in. thick, which is plenty thick enough to turn a nail. The material easily passed inspection.
This size channel was wide enough to place three 12-2 Romex cables side by side under it. The fussy parts are the corners, where it's important to make sure the burrs from cutting the channels are removed and the sharp edges smoothed.
You could use armored cable (BX) wire instead for this kind of application because it has its own flexible metal sheath. But BX wouldn't have conformed to the tight radii that we needed for this job. I'd have to say that this technique saved at least $10,000 worth of drilling and drywall repair on this rewiring project.
David Lombardi, La Jolla, CA