How-To
Code Check West: Building Guidelines
What you need to know about building codes in the western states, at a glance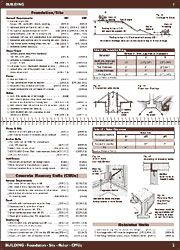 Building codes are in the midst of a major transition. The former codes from ICBO, BOCA, and SBCCI are being "orphaned" as these three organizations merge into the International Code Council and publish one "suite" of codes. The old CABO codes, adopted in Oregon, were a precursor to the current International Residential Code (IRC). The final Uniform Building Code (UBC) published by ICBO is the 1997 edition and is still in effect in Washington and California. In addition, some jurisdictions in California are accepting plans based on the 2000 IRC. For a mechanical code, California is using the ICBO 1997 Uniform Mechanical Code (the final edition of that document) and, for plumbing, the 1997 Uniform Plumbing Code published by the International Association of Plumbing and Mechanical Officials. In parts of the West Coast, the 1996 National Electrical Code (NEC) will stay in effect until at least July 2002, while in other parts the 1999 NEC is already being used.
Code Check West has been developed to help builders and inspectors navigate this confounding mix of codes. At a glance, the two-column format for code citations shows the significant differences between the various codes adopted in the western states.
In this excerpt, you'll find information on foundations, concrete masonry units, and retaining walls.
Redwood Kardon, Doug Hansen and Mike Casey have been the authors of the Code Check series for more than 10 years. Paddy Morrissey is the series illustrator. Learn more about the Code Check team by visiting their Website at www.codecheck.com and visit www.taunton.com to view all the books in the Code Check series.
 
View PDF