How-To
Do's and Don'ts of Installing Fiberglass Insulation
Tips from a renovation contractor, from his book Renovating Old Houses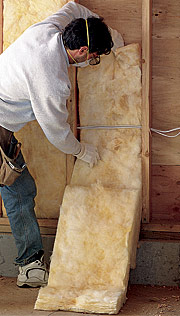 Splitting the batt in half is a good way to fit fiberglass batts around wires and pipes.
Never mash fiberglass batts to fit under or around a pipe or electrical cable. Compressed fiberglass loses its R-value because its dead-air space is drastically reduced. Instead, split the batt to half its thickness. Slide half of the batt behind the pipe or cable and lay the remaining piece on top.
To insulate around an electrical box, split the insulation so you can loosely tuck some behind the box and then carefully cut the remaining insulation around the box. The same split-and-cut technique is used wherever insulation encounters obstacles and changes in depth, such as where a ceiling joist splices into a rafter. Simply butting the insulation against the resulting bump-out creates a gap and squishes the batt at the same time. Both conditions should be scrupulously avoided. Don't leave any gaps at the top or bottom of the bays or where the batts butt together.
Also, don't pack fiberglass insulation into the gaps around windows and doors — fill these gaps loosely. (A wood shingle makes an excellent stuffing spatula.) Urethane spray foam does a much better job of insulating and sealing these trouble spots. It's expensive and messy to use, but its superior R-value and infiltration resistance are well worth the trouble. Use the low-expansion foam for filling around window and door jambs. Highly expansive foams can bow the jambs and cause the window or door to stick.
If you insulate above ceiling-mounted light fixtures, make sure they are designed for that purpose (rated IC); otherwise, the buildup of trapped heat could start a fire.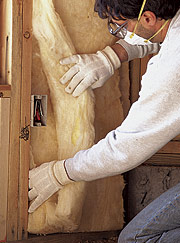 Never stuff insulation behind an electrical box. Split the batt to fit neatly behind the box, and then cut the rest to fit around it.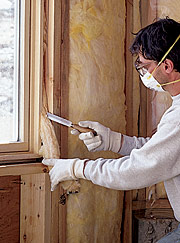 Don't pack the gaps around windows. The insulation should be able to expand just enough to fill the cavity without compressing. A serrated bread knife is a good tool for both cutting and shifting the fiberglass.
George Nash is a renovation contractor and the author of Renovating Old Houses. Photos by: George Nash