Design
Does Fiberglass Still Make Sense?
Maybe, but other types of insulation offer installation advantages that make them more reliable.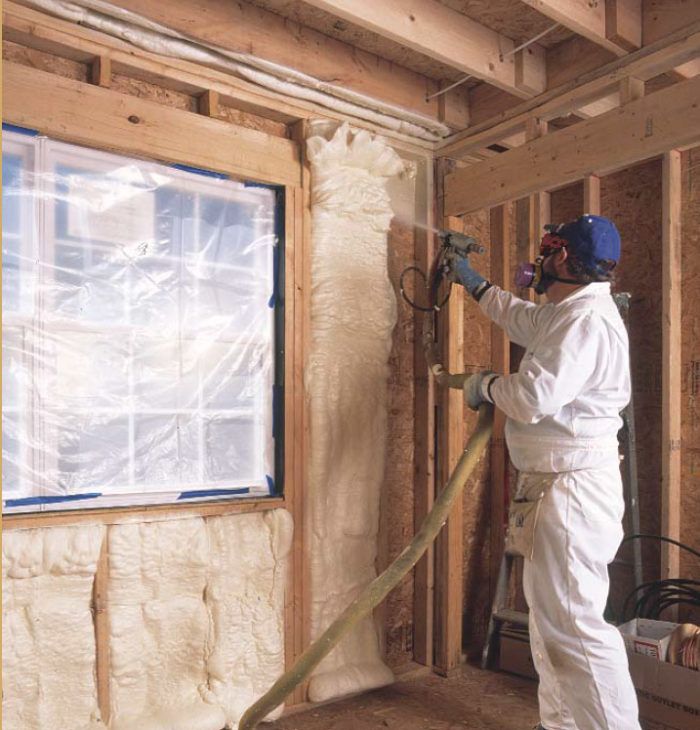 Synopsis: This article takes a close look at the various insulation choices (batts, blow-in, and spray) and discusses their pros, cons and costs. There is significant talk about air infiltration, the hazard it poses, and the best ways to insulate to avoid it.
Jim Remick gave up on those familiar rolls of fiberglass insulation years ago. The Portsmouth, N.H., insulation contractor has built three specialized trucks at $100,000 a pop to apply sprayed-in foam insulation, and he dabbles with blownin fiberglass and cellulose. In Remick's opinion, batts are probably the least efficient thermal insulation a homeowner can choose. "We stay away from them," he says. "We just don't believe in the product."
Representing roughly three-quarters of all residential insulation, fiberglass batts are easy to install, are good thermal insulators, don't burn (although their facings do), and are widely available. They're also relatively cheap, and nagging health questions are being put to rest.
So what's the problem? In a nutshell, airflow. Scientists who study how heat, air, and moisture behave inside buildings say insulation plays a major role in keeping a building dry and its occupants healthy. Batt insulation doesn't do its job when installed wrong. And batt insulation is easy to install wrong. Many insulation contractors make a tidy living from retrofits, fixing houses not properly insulated in the first place.
Alternatives vary in cost and efficiency
With as much as 70% of residential energy consumption spent on heating and cooling, insulation choice can have huge financial implications. It's not merely a question of cost for installation, but how much money insulation can save through lower energy bills.
Insulation can be divided into four families: batts, blown-in varieties, sprayed-in foam, and rigid panels. Installed costs range from less than 50¢ to more than $2.50 per sq. ft. R-values, the standard measure of thermal efficiency, range from about 2.3 to 7 per in. But factors beyond thermal efficiency and cost are worth weighing: Is the insulation an effective air barrier? Does it block water vapor? Will it support the growth of mold, or become a mouse or ant hotel? Does it trap water or allow walls to dry?
Batts: Easy installation, one big weakness
Although fiberglass is by far the dominant player in the batt market, there are other choices: recycled cotton, wool, and mineral (or rock) wool. Fiberglass batts are available in a variety of thicknesses and in precut widths to fit different kinds of framing. Manufacturers offer different densities, with resulting R-values from about 2.9 to 4.3 per in. High-density batts do a better job of restricting airflow in walls, ceilings, and floors.
Putting in batt insulation seems simple. All you need to do is cut the batt to the right length and fit it by stapling the foil, plastic, or kraft-paper flanges to the framing. But there's the rub: The right length is tricky to achieve, and the flanges need to be continuous along the face of the framing. According to research done for the American Society for Testing and Materials (ASTM), a gap of even 1 mm can allow substantial convection currents (read: heat loss) within and through a wall assembly.
Even with precut batts of a fixed thickness and width, you still don't get perfection because stud bays and joist cavities often are shaped irregularly. Unless the material is meticulously installed, its actual R-value will be lower than the number printed on the wrapper. That means no gaps, voids, or overstuffing crevices. No shortcuts when fitting the insulation around pipes and wires. And the framing needs to be exact.
To learn more about the best insulation systems that work for basements, walls, and roofs, click the View PDF button below.
View PDF