Tools & Materials
A Better Breed of Jigsaws
Making precise cuts and keeping sightlines clear are must-have qualities. We tested 12 top models and picked the leader of the pack.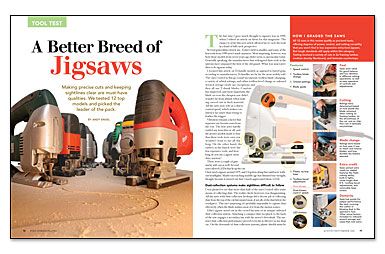 Synopsis: Carpenter and author Andy Engel reviews 12 jigsaws based on several criteria, including feel; his sense of the saw's balance and vibration; cutting ability through framing lumber and laminate countertops; and ease of blade change. He rates the Hitachi CJ110MV as best value, but calls Bosch's 1590EVSK his favorite. Other tools reviewed include the Craftsman 27719, DeWalt DW331K, Festool PSB 300 EQ, Freud FJ85, Hilti WSJ 850-ET, Makita 434FCT, Metabo STEB135, Milwaukee 6268-21, Porter-Cable 9543, and Ridgid R3120.
The last time I gave much thought to jigsaws was in 1999, when I edited an article on them for this magazine. The chance to write this new article allowed me to view the tools in a kind of full-circle perspective.
Several generalities struck me. Today's field is smaller, and some of the best tools from 1999 aren't made anymore. Most surprising, however, was how those models from seven years ago didn't seem so spectacular today. Generally speaking, the manufacturers that redesigned their tools in the interim have surpassed the best of the old guard. What was innovative then is de rigueur today.
I focused this article on D-handle models as opposed to barrel grip; according to manufacturers, D-handles are by far the most widely sold. The ones I tested in this go-round incorporate toolless blade-changing, a variety of orbital settings, and either toolless bevel change or onboard wrench storage (with one exception); and they all use T-shank blades. Comfort has improved, and most important, the blade on even the cheapest saw didn't wander far from plumb when making curved cuts in thick material. All the saws now rely on a dial to control speed, which makes consistency far easier than trying to feather the trigger.
Vibration remains a factor that separates my favorite saws from the rest. The best saws hardly rattled my knuckles at all, and the poorer models made it clear that these tools were ones you wouldn't want to use all day long. On the other hand, the rattlers in the bunch were the less expensive tools, and how long do you use a jigsaw most days, anyway?
There were a couple of gimmicky add-ons as well. Several saws offered LEDs that lit up the cut. I first used a jigsaw around 1975, and I'd gotten along fine until now without headlights. Maybe encroaching middle age has dimmed my eyesight, though, because it turned out that I much appreciated those LEDs.
Dust-collection systems make sightlines difficult to follow
I was pleased to see that more than half of the saws I tested offer some means of collecting dust. The reality check, however, was disappointing. All the saws with dust-collection hookups did a decent job of collecting dust from the top of the cut but missed most, if not all, of the dust below the workpiece. This isn't surprising; it's probably impossible to capture dust effectively when the blade isolates most of it from the suction source.
For more photos and details, click the View PDF button below:
View PDF