How-To
Save Energy With Rigid-Foam Insulation
Get the details right, and a small increase in wall thickness can make a big difference in energy performance.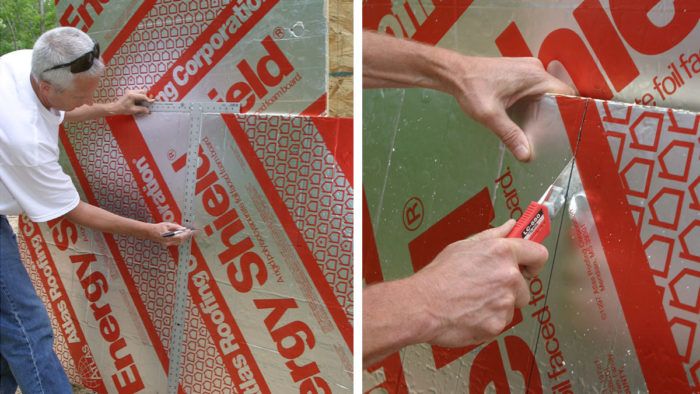 Synopsis: Exterior siding is typically applied directly on top of housewrap covered plywood or OSB sheathing. But a growing number of builders interested in energy-efficient construction are singing the praises of using rigid-foam insulation between the wall sheathing and the exterior siding, creating a continuous insulating layer. Contributing editor Rick Arnold explains why this extra investment in labor and materials has a significant long-term payoff and tells how to detail the installation. A sidebar compares the three main types of foam insulation: expanded polystyrene, extruded polystyrene, and polyisocyanurate.
---
Like most builders in the Northeast, I've been using rigid-foam insulation for a long time. I've used it to insulate foundation walls and basement slabs, and to meet code-required R-values in cathedral ceilings. Until about five years ago, however, I never used it as part of a wall assembly. Then I worked on a house that required a high R-value in walls built with 2×4 studs on 12-in. centers. The best solution was to add a layer of rigid insulation over the exterior sheathing.
Unlike most products, which insulate only between studs, rigid foam provides a continuous insulating blanket across the entire wall surface. This results in a greater overall R-value, which can have a significant impact in either a heating or cooling climate. After installing rigid-foam insulation on the exterior of that house and doing some research, I learned that the benefits outweigh the investment in material and labor.
An additional layer affects wall performance
Rigid-foam insulation is a generic term that is used to describe a few different materials. The most common are expanded polystyrene, extruded polystyrene, and polyisocyanurate. The R-value of rigid-foam insulation ranges from R-3 to R-6.5 per inch, but when used over sheathing, it greatly increases the overall R-value of conventionally framed walls.
In a typical wood-frame house, about 25% of the wall area is composed of uninsulated wooden structural elements. Relatively speaking, wood is not a good insulator, and the thermal bridge it provides conducts heat from one side of the wall to the other.
Unlike insulation that fills wall cavities between the studs, rigid foam applied over the entire wall provides a continuous thermal barrier. This layer isolates the framing assembly, including the mudsills and the band joists, significantly increasing the wall's effective R-value.
According to the Building Science Corporation's Guide to Insulating Sheathing, "Adding one inch of insulating sheathing (R-5 for this example) will increase a 2×6 stud wall from an effective R-14.4 to an effective R-19.4. This represents an increase of 35% effective thermal resistance with only 15% increase in the overall wall thickness."
Rigid-foam insulation also can serve as an air barrier. Properly sealed, it restricts air movement into a wall cavity, helping insulations like fiberglass and cellulose to perform to their full potential. As an air barrier, rigid foam also helps to prevent infiltration of moisture-laden air, which can cause a number of different problems in wall cavities, and it keeps conditioned air from escaping.
An effective building envelope depends on a number of different elements. I've settled on a few designs that work well in the coastal climate of New England and for the types of materials I typically use. When I decided to include rigid-foam insulation in wall assemblies, I had to consider how it would affect the entire wall system. For instance, the foil-faced polyisocyanurate used is a vapor barrier, so I eliminated the interior vapor barrier of the original design.
To view the entire article, please click the View PDF button below.
View PDF