Design
Eye-catching ceramic tiles
Designer ceramic tiles embrace subtle differences in appearance from batch to batch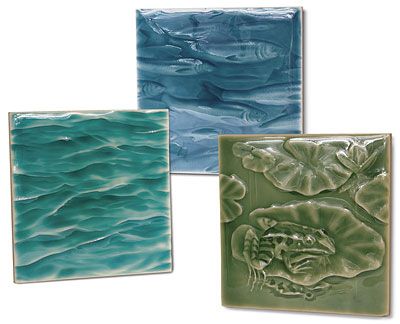 • Manufactured by David Regan Tile
• 406-728-5536; www.davidregantile.com
• Cost of each 6×6 embossed tile: $21.50
We get lots of news releases and samples from companies that are making trendy glass, concrete, metal, and even wood tiles, but almost nobody seems to be touting ceramic anymore. David Regan's patterned tiles are proof positive that ceramic can be every bit as creative as the competition.
For one thing, Regan doesn't rely on the drab glazes used by other major tile distributors. His company makes all its glazes using a secret recipe, which includes materials mined directly from the earth.
While other tile companies strive for consistency in their products, Regan embraces the subtle differences in appearance from batch to batch. The golden ambers, deep grays, and rich greens are applied in layers of varying thicknesses, pooling over and around the slightly embossed surface of the tile to create a three-dimensional, organic appearance.
Unlike other ceramic-tile designers, Regan doesn't offer kits or directions with his tiles. He encourages buyers to free their imagination and have fun by mixing and matching his designs with other tiles, or to experiment with different combinations of tile, granite, marble, and metal. Whether you're looking to accent your kitchen with vines of lush ivy and trails of bird tracks, or to surround your shower with gentle waves and a school of herring, Regan's ceramic tile is worth a look.
Photo by: Krysta S. Doerfler