Design
Master the Master Suite
An architect's rules and refinements for combining bathroom, bedroom, and closets.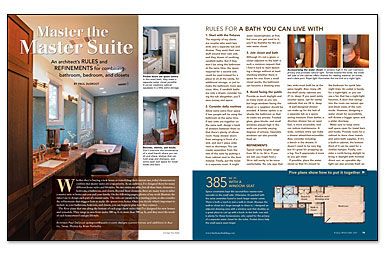 Synopsis: Master suites might share the same three basic elements (bedroom, bathroom, and closets), but there are many more ways to tailor these spaces to suit your needs. Architect Paul DeGroot details the essential features to get right, right from the get-go; for instance, adjoining closets and baths, optimal placement for bathroom and bedroom windows, and generous closet space. DeGroot follows up with ideas for customizing your master suite — especially useful if you and your spouse have different schedules or if you're looking for a respite from the kids.
Whether they're buying a new house or remodeling their current one, today's homeowners confirm that master suites are a top priority. As an architect, I've designed them for many different home styles and lifestyles. No two suites are alike, but all share basic elements: a bedroom, a bathroom, and closets. Beyond these elements, there are many ways to tailor a master suite to better suit you and your family. On the following pages, photos of my work illustrate the rules I use to design each part of a master suite. The rules are meant to be a starting point, so also consider the refinements that suggest how to make the spaces even better. Once you decide what's important to include in your bathroom, bedroom, and closets, you can begin to plan how they connect.
The floor plans that run along the bottom of each page show suites that I've designed for new homes and remodels. They range in area from under 400 sq. ft. to more than 700 sq. ft., and they meet the needs of each homeowner's unique lifestyle.
Rules for a bath you can live with
Start with the fixtures. The majority of my clients are couples who want two sinks and a separate tub and shower. They want their own stuff around their own sink, and they dream of soothing candlelit baths. But if they won't be using the bathroom at the same time, the space required for a second sink could be used instead for a place to sit at the vanity, for additional storage, or just to make the bathroom more spacious. Also, if candlelit baths are only a dream, consider losing the tub altogether; you'll save money and space.
Consider daily routines. Allow some extra floor space if two people will be using the bathroom at the same time. If two sinks are together on the same wall, design a bank of drawers between them so that there's plenty of elbow room. Keep shower doors from swinging in front of a sink, and don't place sinks next to doorways. You can create separation from the rest of the suite by putting a linen cabinet next to the door instead. Finally, put the toilet in a separate room. It might seem claustrophobic at first, but once you get used to it, you'll be thankful for the private water closet.
Join closet and bath. Although it's not a given, a closet adjacent to the bath is such a common request that I find it hard to start sketching a design without at least checking whether there is space for one. Even a small closet works; the bathroom can become a dressing area.
Avoid facing the public. Provide as much daylight and as many views as you can, but large windows facing the street or a neighbor should be avoided. A better option is to situate the bathroom so that its views are private. Frosted glass, glass blocks, and small windows placed high in the walls can provide varying degrees of privacy. Operable windows can also provide fresh air.
For more photos, drawings, and details, click the View PDF button below:
View PDF