Tools & Materials
Backdraft Protection for Combustion Appliances
Vent-rite Spill Alarm
• Manufactured by Energy Federation Inc.
• 800-379-4121; www.efi.org
• Cost: $135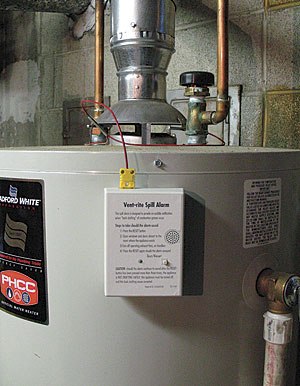 When you air-seal a home to increase its energy efficiency, you also need to ensure that exhaust gases from combustion appliances like water heaters, boilers, and furnaces don't back up in the house. Otherwise, powerful exhaust fans in the bathrooms and kitchen can create negative pressure inside the house and draw outside air backward through the heating-appliance flue, a problem called backdrafting or spillage. If backdrafting happens while the combustion appliance is firing, noxious and deadly fumes will be drawn in as well.
The Vent-Rite Spill Alarm can be installed on any gas-fired combustion appliance with an exhaust diverter (also called a draft diverter, a draft hood, or a vent cap) to alert you to backdraft, should it occur. Two thermal sensors are installed on the appliance's exhaust diverter, and the body of the alarm has a powerful magnet to hold it on the side of the appliance. If the battery-operated alarm detects hot gases emitting from an appliance when backdrafting occurs, it sounds a constant tone. Because the device typically is installed in a basement, I doubt the alarm is loud enough to rouse homeowners from a deep sleep in a second-floor bedroom, but it was certainly loud enough that I couldn't ignore it on my first floor, even with the sound traveling through R-30 insulation and the gasketed, exterior-style door to my basement.
Think of the Vent-Rite as your first line of defense. It isn't meant to replace a smoke alarm or carbon-monoxide detector, but it does sense hot gases before conventional detectors, which are hampered by dilution of the exhaust with room air. Even with the Vent-Rite in place, you should still have a smoke alarm and carbon-monoxide detector near combustion appliances for redundant safety. Finally, Vent-Rite is a battery-operated alarm, so change the batteries annually when you replace your other alarm batteries.
Photo: Mike Guertin