In kitchen design, the beat goes on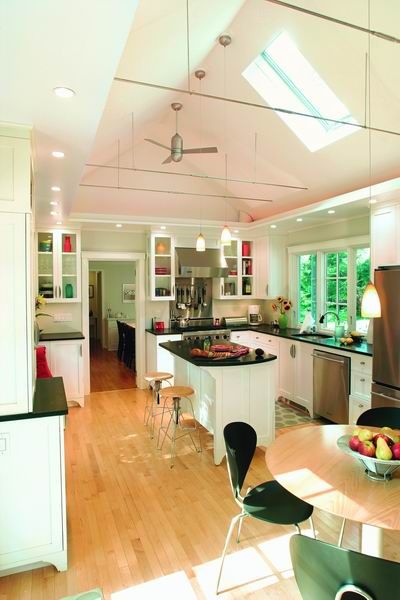 With the new year still fairly new, the time is ripe for trendspotting—looking ahead to what changes 2010 will bring to all facets of American life. So brace yourself: If certain prognosticators are correct, Jon Gosselin will join the Peace Corps (giving us all some peace), and the United States will implode (economically and morally, though not physically).
So I was looking forward to some equally exciting future candy when I scanned NKBA's 2010 Kitchen and Bath Design Trends. It was encouraging to see anticipated gains in technologies like induction cooking and easy-access refrigeration and dishwashers. But overall, I was struck with the sameness of it all: "Traditional" continues as the most popular design style; cherry remains the top wood for cabinets, granite countertops reign and brushed nickel is the choice for faucets.
As the list makes clear, so much of what homeowners demand in their kitchens continues to be driven by what they can be sold, what their neighbors just bought, or—what's even more dispiriting—what they expect will attract buyers when they sell their homes.
The composition of what we magazine editors so cloyingly refer to as "the heart of the home" loses its heart, not to mention its personality and individuality, to the economic incentive of having exactly what everyone else has or thinks they want. And I know designers who will agree that this mindset can make for some very bland (not to mention expensive) kitchens and baths.
So what are some kitchen and bath design trends that might buck this "trend"? How about:
 More and better-placed windows, or skylights, that invite natural light into kitchens and baths to save electricity and infuse the spaces with energy.
 Baths with grab-bars and handrails seamlessly integrated into the design of the space so they are there for those who need them and invisible to those who don't.
 Kitchen prep areas that cleanly integrate recycling and, if desired by homeowners, composting facilities
 Kitchens that are "traditional" not because their cabinets are plastered with corbels but because they efficiently and shamelessly fulfill a kitchen's traditional purpose (meal preparation) with simple and easy access to food, dishware and appliances.
 Efficient and correctly-sized ventilation in both kitchens and baths.
Those of you who design or build kitchens and baths—what do you want to see?