How to Attach a Deck Ledger to the House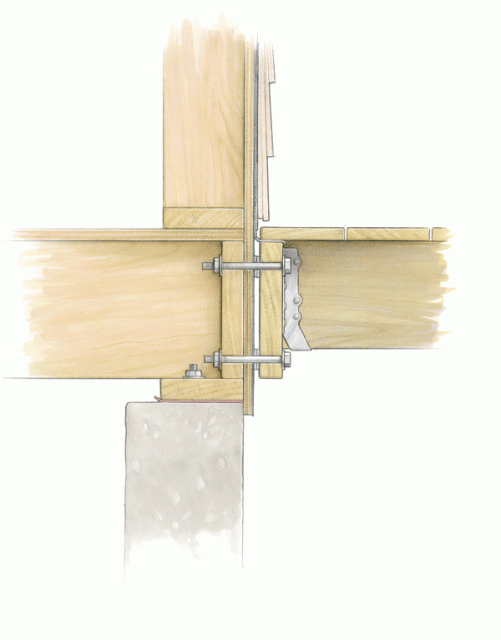 Slapdash connections between a deck ledger and the house are a frequent cause of deck collapses. It's hard to get through a summer season without reading at least one horrifying account of a deck party that ends in injury or death because the ledger pulled away from the house.
"This is my house, so I want to do it right the first time," Starboardtacker says in a post at Fine Homebuilding's Breaktime forum.
His current technique is to make pressure-treated 2×4 blocks with sloped tops and then lag-screw the ledger through the blocks and into the house framing. He cites Rob Thallon's Graphic Guide to Frame Construction, which describes the use of 3/4-in. spacers filled with silicone caulk, but has no idea where to get them. And while he knows some people skip the 2×4 spacers and use several washers between the house and ledger, he doesn't think this provides enough separation.
How to proceed?
Pros and cons of using standoffs

Rather than fussing over which type of standoff is best, JonBlakemore would skip them altogether.
"You probably should strip off the siding and bolt directly against the rim joist, then flash it correctly," he writes. "With most exterior finishes this is the best. Your stand-off method puts more stress on the fasteners. If you have your ledger tight against the rim joist it's much stronger. If it's flashed properly you won't have to worry about spacers."
Flashing, of course, is key. Any water trapped behind the ledger can induce rot, if not in the ledger itself than in sheathing and framing of the house. The high risk of decay drives builders to seal the connection carefully, with a stick-and-peel membrane like Vycor against the house, and flashing to divert water away.
Or, writes, Noone51, to using galvanized or nylon washers to create a space behind the ledger so water and debris can't be trapped in the first place.
Noone51 posts a link to an article by Danny Lipford that appeared in the now defunct Today's Homeowner magazine a decade ago. In it, Lipford suggests attaching the ledger to the house with a pair of carriage bolts every 24 in. and creating a space of at least 1/2 in. between the house and ledger with 3/8-in. galvanized flat washers.
As long as the siding is in good condition, Lipford wouldn't disturb it.
Or, Noone 51 adds, you can buy standoffs at your local big box store or lumber yard. Then he adds this curious note: "Your ledger board should not be carrying any of the deck weight, that is the job of girders/beams."
Sir, I beg to differ
JonBlakemore starts with that last comment.
"A ledger board has no point except to transfer loads from the deck to the house," he says. "If one used beams for both load points (at house and at edge of deck) then no ledger should be used."
And on the larger issue of Lipford's method of attaching the ledger, JonBlakemore says it would work for only certain types of siding but is by no means a universal approach.
"The author states that they mount the ledger on top of the siding," he writes. "This may work fine with certain types of siding, but most will not work. Any siding that has a flat back and is in full contact with the house along it's width (carsiding, for instance) will take to being bolted through.
"Lap siding, shingles, shakes, vinyl, aluminum, fiber cement, and many others have a void between the back of the siding and the sheathing," JonBlakemore adds. "Bolting the ledger to the face of this type of siding will not give a solid connection. The siding must be cut, the ledger installed, and everything flashed properly. Any other type of ledger connection will be insufficient."
Harryvermehren is on the same page. No ledger board should be installed with siding between it and the rim joist of the house.
"In my opinion," he says, "a ledger board needs to be attached to the rim with lags or thru bolts. A pair 3 X 3 X 3/16 galvinized bearing plates make great spacers. The ledger should be protected by a flashing, with the siding overlapping the flashing. Never siding between the ledger and rim board."
And what about Siding Savers?
Why all the hassle, wonders sportfury, just use Siding Saver mounting brackets. The brackets are attached to the siding with 1/4 by 4-in. screws every 32 in. Filled with silicone, the oversized mounting holes will provide a leak-proof connection.
"Use the same procedure to mount the ledger board against the brackets, using the size of lag bolts and spacing required by the building codes of your area," sportfury adds. "This method eliminates the need to cut the siding, install J trim, and flash the ledger board. It also leaves a space between the ledger board and siding.
As described on the Siding Saver website , the brackets (or "crochet de montage" in French speaking parts of the world) are sized for a variety of siding types and cost about $19 each.
DanH thinks the recommendation amounts to spam, and in any case he "wouldn't trust those mounts as far as I could throw them."
But sportfury is undeterred.
"I had no idea that if I joined and posted on this site it would be regarded as spam," he says. "It is clear you know nothing about this bracket, by your comments."
Photos sportfury provides show the brackets attached to the side of a house, on which a previously mounted ledger board had caused a lot of water damage.
Freestanding decks aren't an option in sportfury's area, and the brackets offered a good solution.
"The deck has been up for two years and there is no damage to siding or cottage," he adds.
---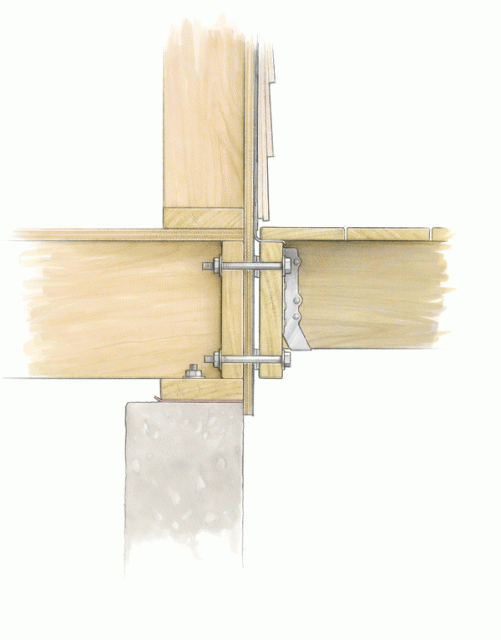 Do Decks need Drainage? Spacing a ledger off the house will allow water to drain away rather trapping it. But why not install it toght and flash it right?