Weather Protection for a Backyard Shop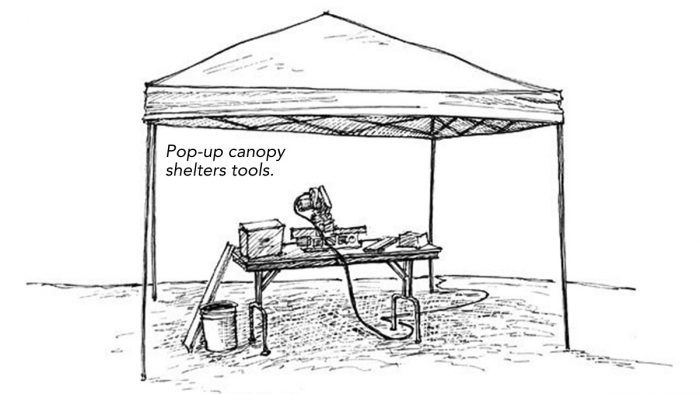 It always seems that as soon as you set up the power tools and workbench in the yard or driveway to begin a remodeling project, the clouds roll in. I used to keep a tarp nearby to sling over my equipment if raindrops fell, or I'd string one up between a nearby tree and the house as a precaution. Now, on the advice from another builder, I set up an inexpensive freestanding 10-ft. by 10-ft. pop-up canopy before rolling out my tools. I can fit my tablesaw and miter saw as well as a small workbench with hand tools beneath the cover. And even if I spread out beyond the perimeter, it's nice to have a dry spot to shelter the gear if rain moves in.
Pop-up canopies range from $50 to $120 at department stores and home centers. They set up and break down in less than 10 minutes and are compact to store. And if you need more covered space, large, fully framed canopies run about $140 and up. Although they take two to three times longer to assemble than pop-up models, the luxury of spacious protection is worth it. Not only do portable fabric canopies keep the rain off, but they also offer a shady spot to work as well.
Mike Guertin, East Greenwich, RI
Edited and Illustrated by Charles Miller
From Fine Homebuilding #217