How-To
Portable Three-Legged Sawhorses
This versatile knockdown design sets up quickly and stores flat.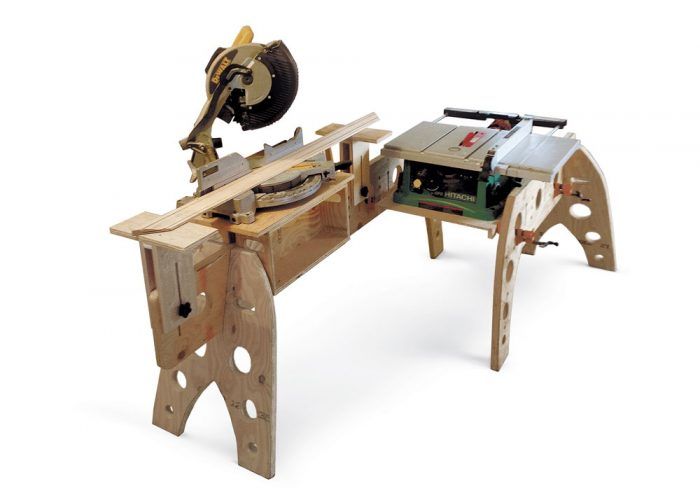 Synopsis: Buying sawhorses is a quick task, but it's easy enough to build your own, with the advantage that you can customize them to your needs. In this article, Minnesota carpenter Brian Campbell demonstrates how he builds a versatile knockdown three-legged sawhorse from a single sheet of 3/4-in. plywood. Among the ways he customizes his sawhorses: support for miter saws or tablesaws; storage for workpieces; hold-downs; and a workbench accessory. Campbell also adds a variety of slots and holes for accessories and clamps.
---
Sawhorses support most everything carpenters work with or on. In the not-too-distant past, most carpenters built, rather than bought, their horses. I still do, because having custom sawhorses that can handle multiple functions means you can haul around less stuff and can use smaller work vehicles and tight workspaces efficiently.
I recently set about to improve my sawhorses without making them cumbersome or complicated. To handle the irregular ground of job sites, I made them three legged. To make them sturdy but not too heavy, I glued two layers of 3⁄4-in. CDX plywood together. (Lighter versions can be built with one layer of 3⁄4-in. or 1 1⁄8-in. plywood.) One end of the rail serves as a leg. The other leg section meets the rail at 15°, interlocking via half-lapped notches. I've now made rails in lengths ranging from 4 ft. to 8 ft.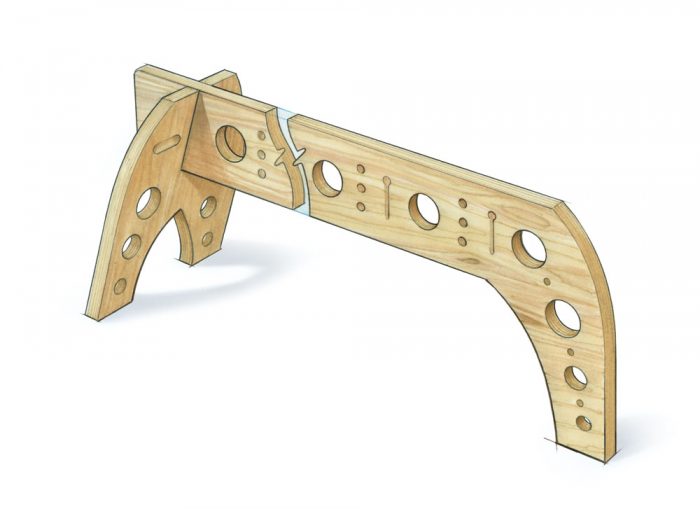 I bored and slotted the pieces to reduce weight without an appreciable loss of strength. The holes also allow the sawhorses to carry worktables, a tablesaw, or a miter saw, and to accommodate applications such as infeed/outfeed support. U-shaped sacrificial plywood caps protect the rails when I'm cutting on them. The hardware for the adjustable-height components is easily sourced through suppliers such as Rockler or Woodcraft.
For more photos, drawings, and details, click the View PDF button below:
View PDF