Design
Half-Baths Full of Function
Design these small spaces to be as practical as they are beautiful.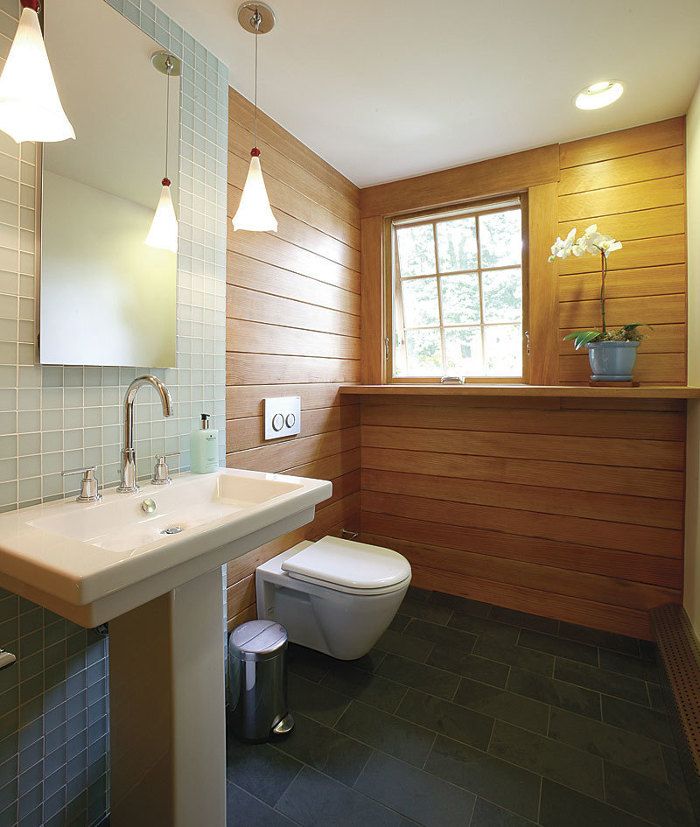 Synopsis: Architect Lynn Hopkins offers a full vision of how to make a half-bath work, functionally and aesthetically, to create a sense of privacy for guests in the public spaces of your home. One example shows how re-evaluating the need for a full bath may offer an expanded range of finish options, since moisture and toiletry concerns have been eliminated. Another example suggests taking the attention off a powder room facing the front door between a double staircase. By placing the half-bath beneath one of the staircases, the freed space creates a sightline through the house to the back garden.
Much of my work involves renovating and reconfiguring houses in New England, many of which date back to a time when half-baths were nonexistent. If a house did have an original half-bath, it was likely located in a small shed in the backyard—not exactly the kind of space contemporary homeowners are looking to renovate. Updating these houses can be challenging, and integrating a half-bath can take some creative thinking. Designing a half-bath—often called a powder room here in New England—usually involves figuring out how to shoehorn it into an existing plan. Whether in a remodel or a new home, you have to consider who will use it even before you determine its location.
Create privacy in public spaces
The original intent of the half-bathroom was to create a facility for guests. Traditionally, these bathrooms were located near the entry foyer to keep guests from wandering too deeply into the private areas of a home. The same reasoning holds true for modern-day half-baths.
With this in mind, determining an appropriate location can be challenging, because a half-bath has two requirements that can be in conflict. First, it should be convenient to the social spaces of the house—the living, dining, family, and kitchen areas. It also must provide sufficient privacy. Locating a powder room off an entry, hall, or other circulation space is ideal. Entering and exiting a half-bath that opens into a room where people are eating, cooking, or having a conversation is awkward at best and embarrassing at worst.
Finding space in the desired location can be a challenge, but because this room is generally not used for an extended period of time or a variety of tasks, the area requirements can be minimal. I have tucked powder rooms into closets, hidden them under stairs, and squeezed them out of adjacent rooms. When a small house increases substantially in size, a full bath may no longer be needed in its current location and can be replaced with a smaller and/or more gracious half-bath. The right location often trumps room size.
Make it compact
Because this type of bathroom is going to be used more for hand washing than bathing and grooming, the sink doesn't need to be very large, and the towels can be smaller. Wall-hung or pedestal sinks require only a small area and result in a more spacious-feeling room. Storage requirements in a powder room aren't the same as in a full bath, either. Hand soap, a bottle of aspirin, a few spare rolls of toilet paper, and some bandages are often all that need to be accommodated, not the voluminous range of toiletries found in a full bath. These items often can be placed in compact wall cabinets, on shelves, or in canisters. Recessed or built-in storage can steal a few valuable inches of space from the walls without enlarging the footprint of the room.
For more photos and details, click the View PDF button below:

View PDF