The Making of a Hobbit-House Door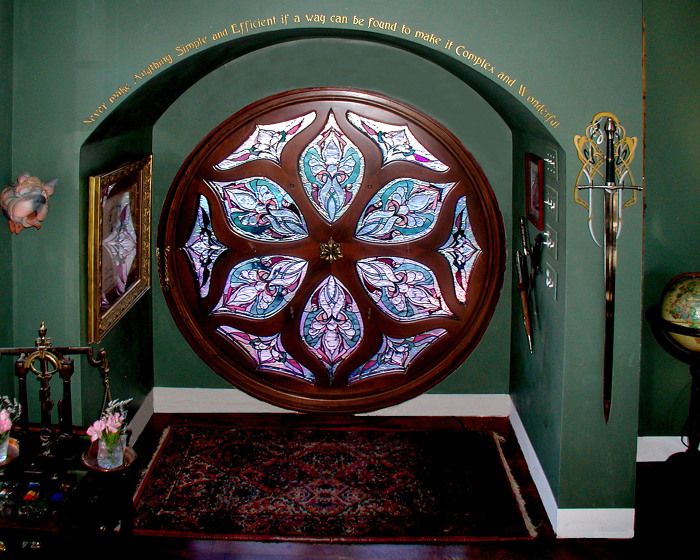 Barbara and Don McKee's Hobbit-house style door was inspired by their love of Art Nouveau and mythical details. The double-layered mahogany door built by Don surrounds stained-glass panels crafted by Barbara.
Learn more about the door in the Finishing Touches section of Fine Homebuilding magazine, issue #242: Enchanted Entrance

Get to know Renaissance couple Don and Barbara a little better in the Tailgate interview from the same issue.
Don's personal motto is inscribed over the door: "Never make anything simple and efficient if a way can be found to make it complex and wonderful."
The McKees installed a whimsical paver patio outside the hobbit door.
With both halves of the door in place, Don makes some final adjustments.
The McKees' house is full of many other wonderful details. Barbara and Don built the floor medallion in this room, and Don built the bookcases.
The bookcases on the left are actually doors leading to a powder room and to Don's workshop.
This hinge mechanism for the bookcases' hidden doors is just one of many intricate devices Don has designed and created.
The handcrafted hobbit door looks right at home set into this beautifully shingled wall.