How-To
The Path to Becoming a High-Performance Builder
It can be daunting. It can be hard. It can be deeply rewarding.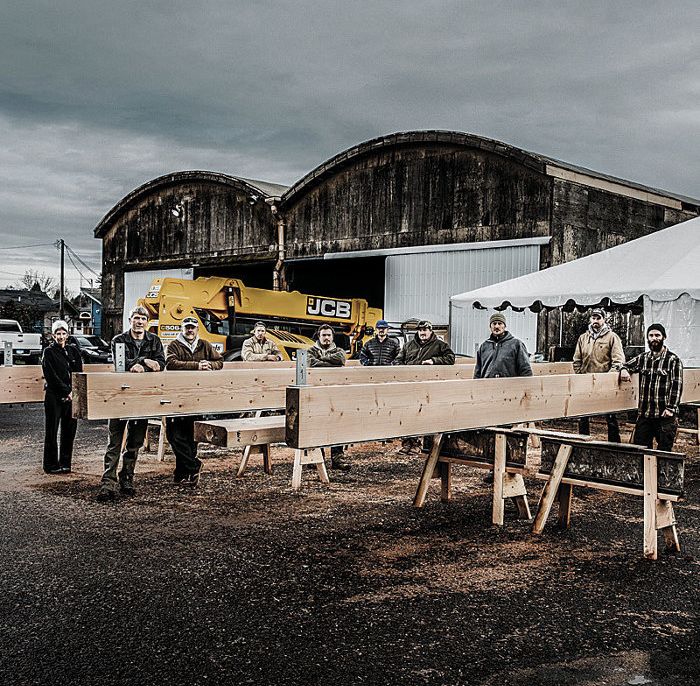 Synopsis: This article explores the career trajectory of two builders who navigated the trials of high-performance construction and built a LEED Platinum net-zero house in the process. The article explores ways to structure your business for success and longevity and to collaborate with all of those involved in building exceptional homes. The information is not only valuable to those who make building homes their business, but is also helpful for those who are looking to assemble the team that will build the low-energy home of their dreams.
Usually when we talk about cranes on a job site, we mean the large, mechanized lifting vehicles. But tucked away in the walls of a small house in Eugene, Ore., is a flock of origami cranes. Before the insulation and drywall were installed, paper cranes were placed there by the homebuilder, Dave Veldhuizen. He does this on most of the projects his company builds, generally without the owner's knowledge. In Japanese culture, cranes are a traditional symbol of good fortune and longevity.
You might be inclined to roll your eyes at that story and ask, "What do paper birds have to do with building houses?" A lot, as it turns out. The impulse that led Dave to place secret cranes in the shells of houses says a good deal about the way his company, Six Degrees Construction, builds high-performance houses. Namely, it says they care. They care about their clients, they care about their employees, they care about building a legacy with their projects, and they care about the environment. Over the last 14 years, Six Degrees has gone from building well-crafted, code-built houses to its latest project: a LEED Platinum, net-zero house. How did Dave and his business partner, Rick Robertson, accomplish this transition? Nobody starts out building net-zero homes and building them well. Yet Dave and Rick's experience offers lessons that might flatten the learning curve for others interested in building high-performance homes.
Building a legacy
Like many who've studied English in college and art in graduate school, Dave found the appeal of crafting things with his hands stronger than the alleged comforts of an office job, and so he ended up in the trades. He worked for a design/ build company in Eugene, beginning as a carpenter and moving on to lead carpenter before handling estimates and contracts. After a decade, he left and founded Six Degrees with his wife, an accountant, in 2001. When their first client asked if Dave would hire his son on the project despite the son's lack of experience, Six Degrees had its first employee, Isaac McCoy-Sulentic, who's still with the company. Rick, who worked with Dave at the design/build firm, joined Six Degrees as a partner in 2007. Today this small custom residential builder has seven employees in addition to the three owners.
In conversations about craftsmanship, carpenters have told Dave that magazine-quality showcase projects only come along once in a career. With Six Degrees, Dave and Rick have proven that idea false. Since starting the company, they have been able to work on a high-quality "career project" nearly every year. While Dave and Rick say they've been lucky with the types of projects that have come their way, it's also been due to the culture at Six Degrees.
For more photos and details on the path to becoming a high-performance builder, click the View PDF button below. 
View PDF