Design
Project Gallery: A Fine Farewell
We recently received a letter from two long-time subscribers, Janet and Kim Yost. The Yosts discovered Fine Homebuilding magazine in 1982 with issue #7 and then began subscribing to Fine Woodworking in 1988. The husband-and-wife team had this to say about their do-it-yourself experiences.To the editors of Fine Homebuilding:
 
We were schoolteachers, who upon retiring in 1987 and 1989 at the ages of 52 and 55, decided we were not ready for the rocking-chair brigade. Teachers are firm believers in the premise that if you can read about how to do something, you can then do it yourself.
We had never built anything more than a 10×14 garden shed, but with your help, we have managed to build almost by ourselves a beautiful timber-frame 30×40 barn and a fantastic 4000-sq.-ft. house. We cannot impress enough upon you how much we learned from your magazines. In Janet's journal, she details many projects that we have learned how to do from studying your articles and their helpful diagrams and photos.
We are including some photos of our home and some of the things we are especially proud of. You will find no store-bought cabinets or stock baseboards or window trim. We buy 1-in. hardwood, plane it to 15⁄16 in., and sand it to 7⁄8 in. Today we finished gluing together two cabinet doors that will go on a cupboard in the master bath. We have some crown molding that we have milled but still have not put up. Janet had foot surgery recently, so she will not be able to get up on the 8-ft. stepladder for a month or so to hold up the ends of the crown pieces as Kim plunks in the nails.
Those two little cabinet doors and the last of the crown molding will complete our home. We both turned 80 this year, so this is not just a thank-you letter but our final notice to you that we will not need your magazines anymore. It is an unfortunate fact of life that 80-year-old people should not be climbing around on ladders very much.
We hope you will take some satisfaction in seeing what two old, amateur builders have been able to accomplish with your help.
Thanks again,
Kim and Janet Yost
Urbana, Ohio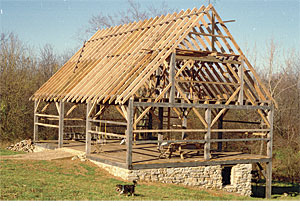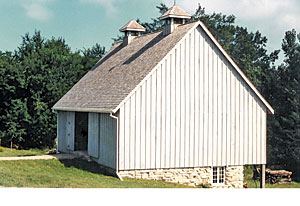 The making of a dream kitchen
No store-bought cabinets or stock trim for the Yosts. Janet and Kim made and installed all of the cabinetry, crown molding, and door and window trim.
Dollars direct decisions
When they realized the interior doors they wanted would cost $400 each, the Yosts decided to buy an inexpensive shaper and make their own.
The Yosts at work
Each of the six frontporch columns was made of 12 staves glued together. Once glued, they were wrapped with plastic wrap and clamped with ratcheting straps until the glue was dry (top). The Yosts created the columns using the Conover lathe they purchased after meeting furniture maker and longtime Fine Woodworking contributor Ernie Conover (bottom).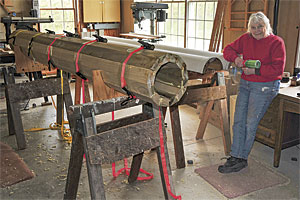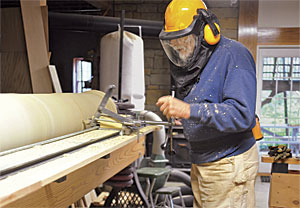 Photos: courtesy of Janet and Kim Yost