How-To
Wood Decking Still Dominates
Twenty years after synthetic decking hit the market, wood still outsells it nearly 2 to 1.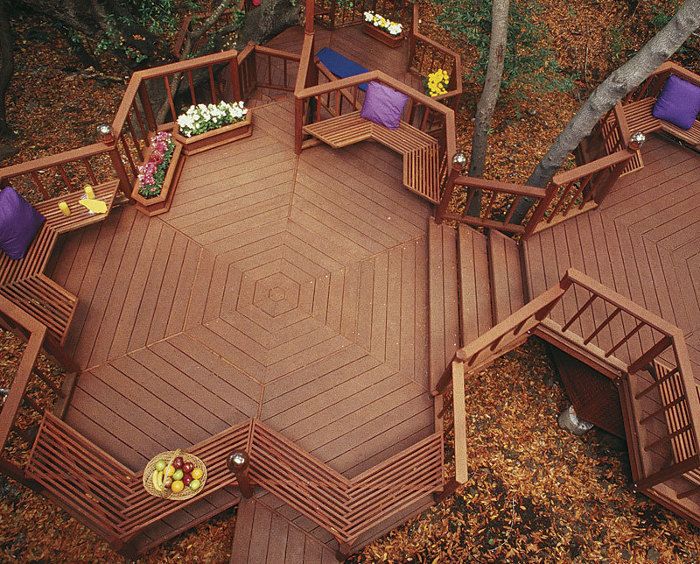 Synopsis: Wood decking offers a range of choices — from premium tropical hardwoods to commodity pressure-treated pine. This article profiles those as well as several domestic softwoods, one hardwood, and a number of new treatment options developed in Europe. Photo: courtesy of calredwood.com
You've seen ads in magazines that trumpet the advantages of deck boards made from synthetics. They tout the low maintenance, the vibrant colors, and the resemblance of this decking to real wood. It's an interesting approach: sell one product by saying how it's almost as handsome as another. But why not just use wood decking? Evidently, a lot of deck builders can't come up with a compelling reason to go synthetic. The Principia Group, a research company serving the building industry, reports that although synthetics are gaining market share, wood still accounts for more than 60% of the decking sold in the United States.
One huge reason why wood decking remains so popular is that #2 western red cedar and pressure-treated southern pine are the cheapest options on the market. Plus, wood is familiar to builders and has the appearance that synthetic-decking makers strive for. Of course, a wood deck requires cleaning and periodic sealing to keep its just-milled look. Alternatively, you can let it weather naturally to a soft gray color, although that also may result in splits and checks.
Although synthetic decking is promoted as low maintenance, its manufacturers recommend regular cleaning for their products. Like wood decking, synthetic decking can scratch, and it's not immune to staining. (Suntan lotion and insect repellant can cause permanent stains on some synthetics.) And although synthetic decking itself won't support the growth of mold or algae, it's not uncommon to find these organisms growing on dirt and tree sap on the deck's surface.
Wood decking also has environmental cachet. It's sustainable, which on the simplest level means that another tree will grow when you cut one down. Depending on your location, you may be able to purchase locally grown wood decking, which reduces fossil-fuel use. Also, wood is recyclable. In fact, some synthetic decking uses wood fibers or wood flour in its manufacture. While one of synthetic decking's early claims to fame was that it used recycled plastic, recycled material represents only a portion of most manufacturers' products, and some deck boards are made entirely from virgin oil-based materials.
There are many long-lasting wood-decking choices, each with a different price and appearance. Along with domestic and imported untreated woods, there are now treatment processes from Europe that make wood resistant to insect and microbe attack. Dense rainforest hardwoods, which arrived in the United States in the 1990s, remain a popular choice, although they carry some environmental baggage. And improvements in pressure treatment make the wood safer, less corrosive, and available in more colors.
For more photos and details, click the View PDF button below:
View PDF