How-To
You Can Build This Shed for About $3,000
Create a better storage shed than you can buy prebuilt using common materials from your local building supply store.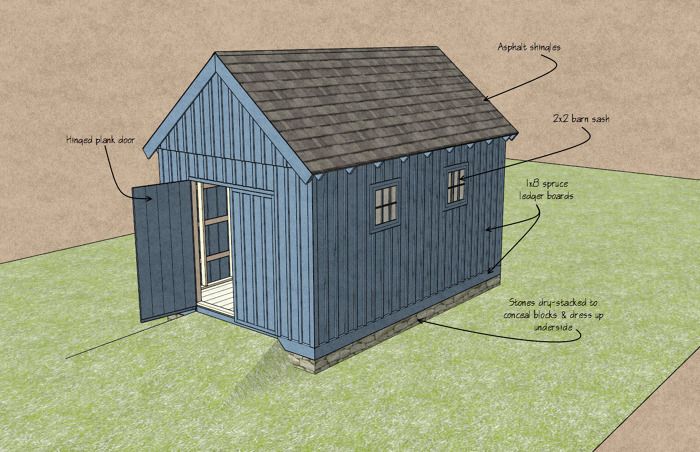 Editor's note: You can find my model of this shed in the Sketchup 3D warehouse. Click here to download it directly into SketchUp. Also, lumber prices are constantly fluctuating, so the final cost to build this shed will possibly be different depending on where and when you build it. Happy building!
Call me a building snob if you want, but I'm going to say this anyway: most sheds are ugly.
"Yeah, but who cares what it looks like as long as it gets the job done," right?
Sure, in some ways that's true. I have no problem with an ultra-cheap or even downright homely storage shed that is being built just to keep tools and equipment out of the weather. Actually, if you've never experimented with this sort of construction, you should. It's really fun to play the part of an old yankee farmer cobbling together a functional project from whatever materials are easily accessible, and to hell with whether the roof includes 3 different colors of shingle and the windows are all freebies from the neighbors curbside pickup.
But I'm not talking about farmers here. Farmers are doing just fine with their sheds.
I'm talking about the people who are settling for factory-built T-111- or vinyl-clad sheds that are oddly proportioned, poorly built from materials that aren't durable, are adorned with appliques that don't match the main house (or even the region of the country they are located in), and don't fit enough tools to be useful. But the biggest forehead slapper is that these sheds are still costing the homeowners thousands of dollars!
So, like any overly obsessive Fine Homebuilding editor, I challenged myself to design a shed that is as inexpensive as possible, but puts a high premium on aesthetics. I take this stuff too seriously, so I spent a couple days working in Sketchup (it's easy, I swear!) to design a budget-friendly 10×16 shed that looks better than anything I could buy prefab, and costs much less. The result? My Budget Barn, which comes out to just about $3,000 in materials, everything included (ok, not tax).
"Looks better" is, of course, subjective. My personal aesthetic leans towards a very traditional look-I took cues from tobacco barns and other New England farm style outbuildings-while relying on as few obviously-modern building materials as possible. To that end, I challenged myself to eliminate sheet goods like OSB and plywood. If you like those items, then by all means go for it. They'll probably save you even MORE money over the solid wood alternatives I'm sourcing.
It's also worth noting that there really isn't a big catch here. You don't need to build your own divided lite windows, forge door hinges, or call around to local mills to find the best deal on fresh-cut lumber. In fact, except for the window sash (which come from www.betterbarns.com), I priced this entire project using materials from www.homedepot.com and the build itself is far less complicated than some of the things we've shown you in the magazine in the past (see Heirloom Garden Shed).
About the only catch you should consider is that this build won't be something you can crank out in a weekend. If you want to save money, it means getting creative with materials. To that end, I chose rough-sawn, knotty, 1×8 spruce ledger boards for many parts of this shed. I'm not trying to turn a profit on this project, so when I can shave a few bucks here and there by putting in some extra legwork and using slightly warped or otherwise wonky materials like these 1x8s, I'm totally willing.
So, what does everybody think? If you could build this for $3,000 or buy something pre-fab, but less attractive (to me) for $4,500 or more, which would you choose?