Episode 31: Adhesives and Building Trades at the 2017 International Builders' Show
Second of four casts from the International Builders' Show.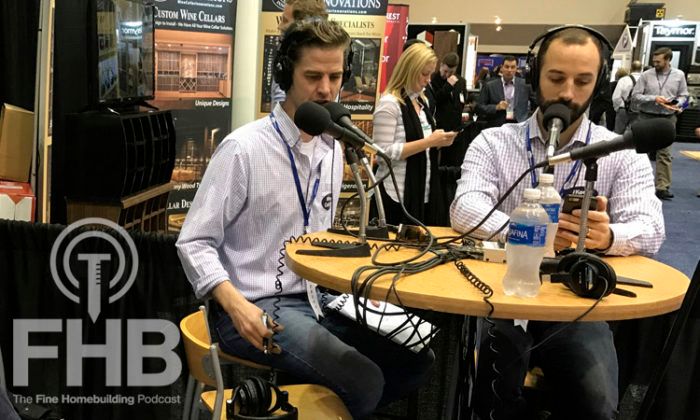 Fine Homebuilding editor Justin Fink chats with several construction masters at IBS 2017, covering construction adhesives and getting under the hood of the home building trade. The show is driven by our listeners, so please subscribe and rate us on iTunes or Google Play, and if you have any questions you would like us to dig into for a future show, shoot an email our way: [email protected]. Also, be sure to follow Justin Fink, Rob Yagid, and Fine Homebuilding on Instagram, and like the magazine on Facebook.
In this episode, Titebond vp-marketing Mark Schroeder talks about Franklin International's construction adhesives, beyond the wood glues for which his company is known. What's more, he's offering a full case of construction adhesive to the first 50 podcast listeners who email [email protected] and mention the Fine Homebuilding podcast!
Boston-based architect Steven Baczek discusses the perfect wall set-up for an energy efficient house. A long-standing FHB contributor, Baczek says he seeks to combine a new way of thinking with old-school materials, like pine-board sheathing and 15-lb. felt paper.
FHB ambassador John Hourihan takes the time to discuss the importance of taking pride in the work and making a cool product, as well as the challenge of finding passionate artisans in the trades and cultivating them. Hourihan is the director of operations for RiverStone Custom Builders in Wellesley, Mass.
Another FHB ambassador, Nick Schiffer is the owner and carpenter at NS Builders, Boston, Mass. He emphasized the importance of social media for builders today, reporting that 40 percent of his business comes from using social media for leads and business: "That is the market now," he says in the podcast. "You can spend a little amount on social media and gain traction with so many more people, especially the younger generation who are ready to build a house. Those are the people you need to market."
The Fine Homebuilding Podcast embodies Fine Homebuilding magazine's commitment to the preservation of craftsmanship and the advancement of home performance in residential construction. The show is an informal but vigorous conversation about the techniques and principles that allow listeners to master their design and building challenges.
ALL OF FHB'S IBS 2017 COVERAGE
Please click on this link for all of Fine Homebuilding's reports from the show, including tool and material news, photos, video, links to podcasts, and much more.